August 17, 2020
Posted by:

April Holle

Categories:

Branding, Design, Print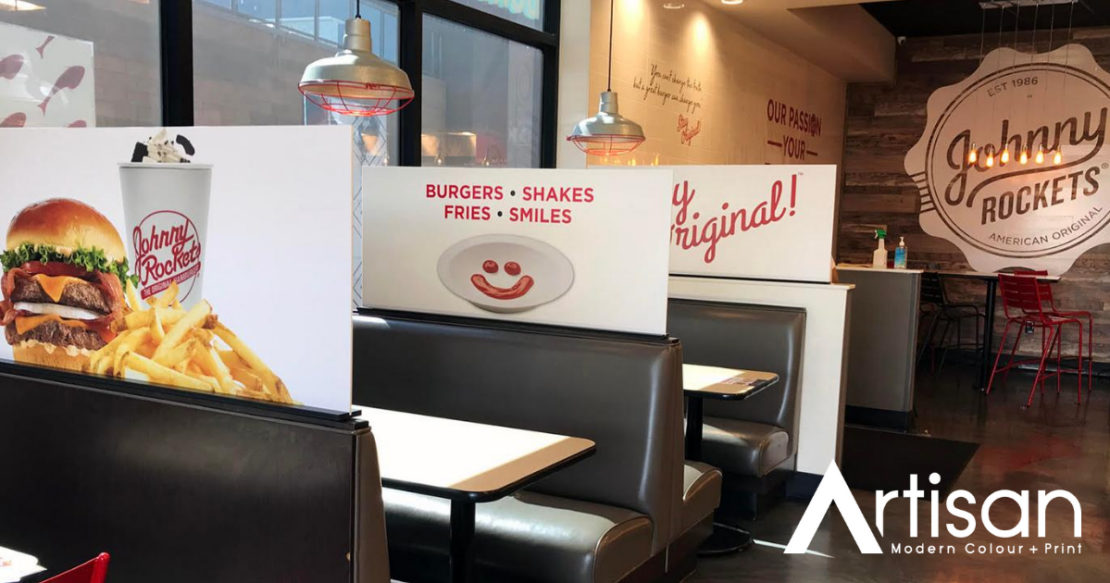 As marketers, figuring out how to market to companies through a rapidly changing business climate during the COVID-19 pandemic has been a new challenge. Many of those who have been successful thus far have become creative—finding ways to balance that creativity with sensitivity and relevancy.
Below are some ideas and helpful steps you can use to move your marketing forward, even during these uncertain times.
CDC Guidelines Provide New Ways to Market
The COVID-19 pandemic and CDC guidelines for open businesses – requiring face shields, safety dividers, directional decals, and social distancing signage – actually offers businesses more real estate on which to market their message and logo.
This means more opportunities to present campaigns of varying depth. Whether using the space to provide explicit information, run an educational campaign or simply familiarize viewers with a logo, taking advantage of these opportunities is the best way to make sure the financial investment counts towards both safety and marketing.
Safety First
Employee-specific safety materials offer marketing real estate that customers are directly looking at. When cashing out or dining in, customers will be looking at plexiglass dividers. When interacting with employees, they will be looking directly at face shields.
Creative Ways to Include Branding with Safety
While the first priority in providing plexiglass dividers and face shields is to keep employees and customers safe during the pandemic, doubling up on the use of these items is a smart marketing move. What else could be displayed on them? Hours, pricing and safety information could be printed on the dividers. Logos and names can be printed along the top of face shields.
Check Out How Artisan Colour Did it!
For example, Johnny Rockets worked with Artisan Colour (an AMA Phoenix Sponsor) to customize booth seating distancing shields. Instead of using clear plexiglass for these, Artisan Colour used Sintra direct-t0-board print material that could be printed on… less expensive than plexiglass and much more fun!
Direct Traffic AND Reinforce Your Brand
When finding their way through a business, customers will be following directional and social distancing signs and floor stickers. Using these to be both eye-catching and informative will help you accomplish two things.
Here are Steps You can Follow
First, interesting graphics can be easier to find and follow, satisfying social distancing needs and directing customers through one-way areas.
Second, if you take advantage of the space to provide information, whether about the business or about safety measures, you are using this opportunity to make one more, non-verbal interaction with the customers, creating a relationship of trust. See these examples from Butterfly Wonderland – signage that communicates social distancing while reinforcing the brand.
As social distancing measures are expected to remain necessary for some time, it makes sense to have these printed on durable, permanent or semi-permanent materials to increase longevity.
Yes, We're Open!
One of the greatest hurdles in this time of quarantine and isolation is letting customers know that a business is still open or has re-opened. While they may be able to look that information up online, it is helpful to provide a physical, visual version of the information, as well.
Be Clear and Welcoming
Customers who drive by and see banners or signage that indicate openness will be absolutely certain the business is welcoming customers. Incorporating this signage with other safety and marketing signage completes the full package of the campaign.
And for those where it's not practical to open their location, check out the recent AMA Phoenix blog article, 6 Tips to keep business going remotely.   
Repurpose Content
Do you have great content already but limited resources right now? Repurpose it! Take several blogs and create a helpful guide, take images from the past six months to a year from online and create a look book. Have great video content, recut it and create branding magic like Nike.
Not to worry, you don't have to have a huge budget Here's a great article from HubSpot that explains how to easily create professional looking videos for 4 popular social media platforms.
Give Back to the Community
Providing branded safety materials for the community is a two-fold approach to giving back during the COVID-19 pandemic. If your business has extra branded face shields or masks, why not donate them to those who need them most in your community? Not only does this keep people safe, but your business receives free advertising.
Or perhaps there's something else your company can provide for free or at low-cost to support your community, customers, or front-line workers during this trying time?
Being a community-oriented business is always a great way to be build trust, especially in difficult times when customers are making real choices about who gets their hard-earned, perhaps limited, funds.
Work with Trusted Professionals
Working with a professional graphics printing service ensures that practical safety aids become works of art that bring a message to customers. Find out from your local AMA chapter who they recommend, check local influencers, ranking in polls and awards. Talk to other industry professionals and see who they use.
---
Reframing these necessary adaptations as opportunities for intentional marketing will take the financial sting out of them for businesses that now find themselves needing to spend more than they expected this year on these safety measures. Branding these adaptations with high quality graphics makes them dually useful pieces of equipment and marketing campaigns.