December 8, 2022
Posted by:

Adrian James

Category:

Blog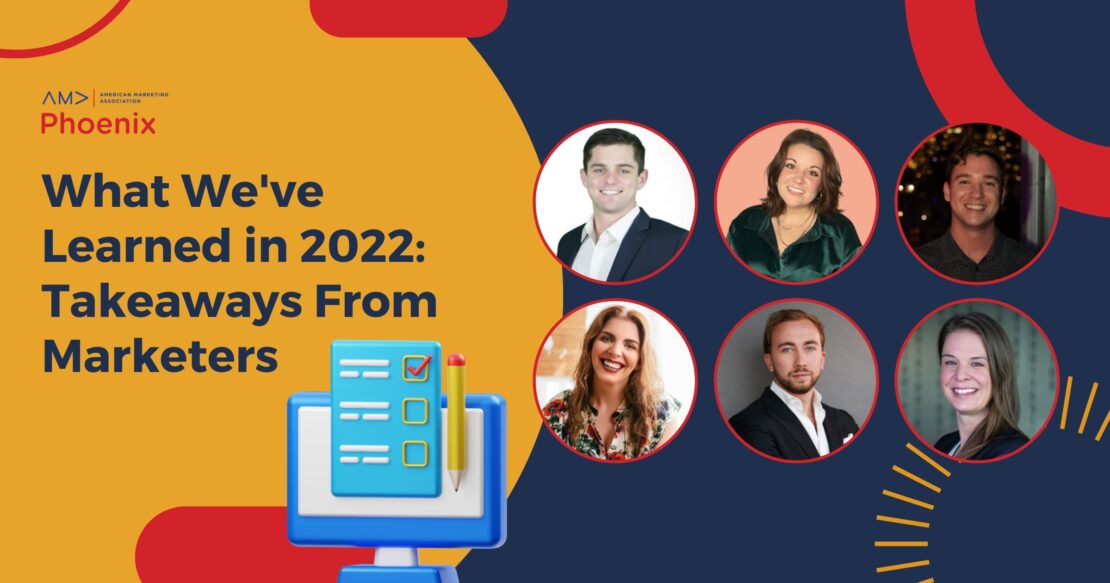 From how crucial it is to update content to preparations for a "cookie-less" world, here are 13 answers to the questions, "As a marketing professional, what are some takeaways you've gained from working in marketing in the year 2022? What are you looking forward to in the future?"
Updated Content as a Key Method
Data Became a Crucial Component of Strategies
Invested in Programmatic SEO
Used AI to Optimize Your Messages
Kept Existing Customers Happy
Evergreen Need for Interesting Stories
Was Vocal About Our Values
Killed Pedestrian Ideas or Risked Mediocrity
Strategically Sound to Cross-Promote Content
Collaboration Is Now King
Personalization Has Become a Standard
More Educated Customers Mean More Accommodation
We Are Not Ready for a "Cookieless" World
Updated Content as a Key Method
The news moves faster than ever in 2022 and Google knows this. The search algorithm is going to prefer recently updated content over a post that has not been touched in years.
By spending the time to add new statistics or examples to a piece of content, you can boost your rankings on the search engine results page.
Doing an audit of content once a quarter is not enough anymore. Looking at the future, I think we will have to update high-traffic posts at least once a month, if not more, to maintain a prime position.
Ryan McSweeney, SEO Manager, Electric IT Support
Data Became a Crucial Component of Marketing Strategy
One of the biggest takeaways I've gained from working in marketing in the year 2022 is the importance of data.
In the past, marketing was largely based on gut instinct and estimates, but nowadays data is king. Thanks to advances in technology, we now have access to a wealth of information that can be used to inform our marketing decisions.
As a result, we can now create highly targeted campaigns that are much more likely to succeed. I'm looking forward to seeing how data will continue to shape the field of marketing in the future. I think it has the potential to revolutionize the way we do business and I can't wait to see what the next decade has in store.
Jim Campbell, Founder, Wizve Digital Marketing
Invested in Programmatic SEO
There have been many updates to Google's algorithm over the years, and it has directly affected how websites have grown and the way they generate content.
One recent fast-growing technique to attract large search traffic is to produce many pages related to your business programmatically. This is done with dynamic elements instead of manually creating them.
The best example would be Zapier. They've created numerous landing pages for each app (Google Sheets, Notion, Gmail) and similar blogs, allowing them to rank for many keyword combinations and long-tail keywords as well.
They're well above $100M ARR and over 50% of their traffic comes from searches. Businesses need to leverage programmatic SEO to draw traffic in bulk with no compromise on the quality of the content.
Anirudh Murali, Co-Founder & CEO, Economize, Inc.
Used AI to Optimize Our Messages
Consumers today are inundated with marketing messages from multiple channels until they close them off. Classic advertising is losing its effectiveness. In fact, according to a survey by Epsilon, 80% of consumers say they are more likely to do business with a brand that offers a personalized experience.

Improvements in technologies such as artificial intelligence, combined with increased data collection and insights from social media and other sources, have enabled hyper-personalization of everything from content to design to product recommendations and everything in between. In 2023, we must continue to personalize our messages in order to get new customers.
Léa Soller, CEO, Digiberries Paris
Kept Existing Customers Happy
I was reading some marketing predictions a little while ago that said, "More marketers will focus on customer health in the next year after years of focusing primarily on new customers."
Acquiring new customers will always be important. However, looking back on 2022, our top priority was keeping existing customers happy and that will be the priority in 2023.
If our customers don't walk away from our interactions feeling like we did everything possible to answer their questions and keep them happy, we've failed.
I believe this improved our brand perception in 2022, and I'm looking forward to 2023 to more customers being surprised at our commitment to their positive experience.
Sarah Norwood, SEO Content Marketer, Nozzle
Evergreen Need for Interesting Stories
One thing I learned from working as a marketing professional is the ability to tell convincing stories.
Marketing is more than advertising or making sales easier. A good marketer knows how to create stories that resonate with the target audience. Working in marketing in 2022 challenged me to become a storyteller who can combine facts and fiction to communicate entertaining and believable messages to the audience.
Michael Alexis, CEO, tiny campfire
Was Vocal About Our Values
Whether it's through the voice of your brand or your own, knowing what values you stand for has become increasingly crucial within the marketing ecosystem. In the day and age of social justice, the audience wants to know what you stand for and encourages you to be transparent about it.
Although it may sound easy, it's crucial to actually dive deep and come up with an authentic answer, because consistency and truth are the keys. Once you know what your values are, weave them into all facets of your marketing and brand personality to truly have a voice that matters.
Asma Hafejee, Sr. Marketing Executive, CMR Surgical
Killed Pedestrian Ideas or Risked Mediocrity
When you don't employ strategic creativity, you run the greatest risk for your organization or company's brand—a pedestrian solution no one will notice.
When businesspeople talk about being risk averse, they think of risk this way: the riskiest idea is the one people will not engage with. And, that my friends, is a pedestrian one. If people don't notice the brand's message, then there will be no growth, no earned media, and no buzz. Nada.
Robin Landa, Professor, Kean University
Strategically Sound to Cross-Promote Content
Cross-promote your content instead of creating fresh pieces for every platform.
Facebook is a great resource to cross-promote content on social channels. This allows us to reach a wider audience instead of one specific platform to drive traffic to the site, and we look forward to seeing how each piece of content performs on each channel.
For example, we can post similar stories, posts, and advertisements on Instagram while also reaching the older generations through Facebook, using CTAs that will take them to the website. Doing so increases brand visibility and helps us connect with our audience.
Randee Machina, Director of Marketing, Simpli Pleasures
Collaboration Is Now King
Over the past few years, one undeniable truth has emerged: modern marketing strategies must be relentlessly consumer-first AND planet-first.
Brands now have to tell sustainability stories, leading the way by example and inspiring consumers and other businesses to do better. They also need to adapt quickly to complex digital and consumer climates or risk becoming irrelevant in the blink of an eye.

It naturally follows that marketing trends will center on consumer engagement and experience. However, to be successful, this cannot be a marketing function alone. Marketing teams will have to transcend the traditional role of branding and advertising to collaborate with other teams, such as product, sales, and after-sales to foster great customer experiences that can be leveraged to nurture long-term relationships.
Heather van Werkhooven, Director of Content & Thought Leadership, Joveo
Personalization Has Become a Standard
The takeaway I've gained from working in marketing this year is that personalization has become more important than ever, especially in eCommerce. It can be used in a variety of ways to improve customer experience, but it is especially popular in the form of sales consultants or chatbots.
Customers can receive personalized recommendations based on their previous purchase history from sales consultants, and chatbots can also provide excellent customer service.
I'm excited to see how AI is used in marketing in the future. I believe it will lead to a shift away from marketing automation and toward more personalized consumer experiences.
AI can hyper-personalize the customer experience by analyzing their profiles.
Most client-brand communication will be carried out using technology. That means abandoning some ineffective strategies. Among other things, I'm referring to ineffective advertising, ineffective mailing, and poorly personalized information content.
Leslie Gilmour, CEO, BeFound
More Educated Customers Mean More Accommodation
No longer is performance marketing able to stand on its own. Customers expect more from a company and that includes its marketing. A winning strategy requires small shifts that allocate budget to both performance AND brand marketing, both of which are judged with their own set of KPIs.

The sales process is longer, the customer is more educated, and a brand must accommodate and answer consumer questions when selling their product or service.
Amber Krigbaum, Sr. Manager of Paid Social, collystring
We Are Not Ready for a "Cookieless" World
My main takeaway would be that we are not ready to operate in a "cookieless" world. This has a major implication for brands, as it forces them to invest in building strong CRM (1st party data) to execute marketing campaigns with the required personalization.
I have my eyes on two things for the near future – BeReal, and Twitter. The first because it allows marketers to innovate, and the second because its future is still unclear from an advertising standpoint. If it changes at its core, there will be a lot of potential for innovation and new opportunities for marketers.

Simultaneously, advertising also continues to shift towards an entertainment value first vs. product alone. In today's age of saturated advertisements on social media, brand rapport is a key factor to stand out and drive users to convert into customers.
Francisco Schmidberger, Founder, LINK Agency