November 10, 2022
Posted by:

Adrian James

Category:

Blog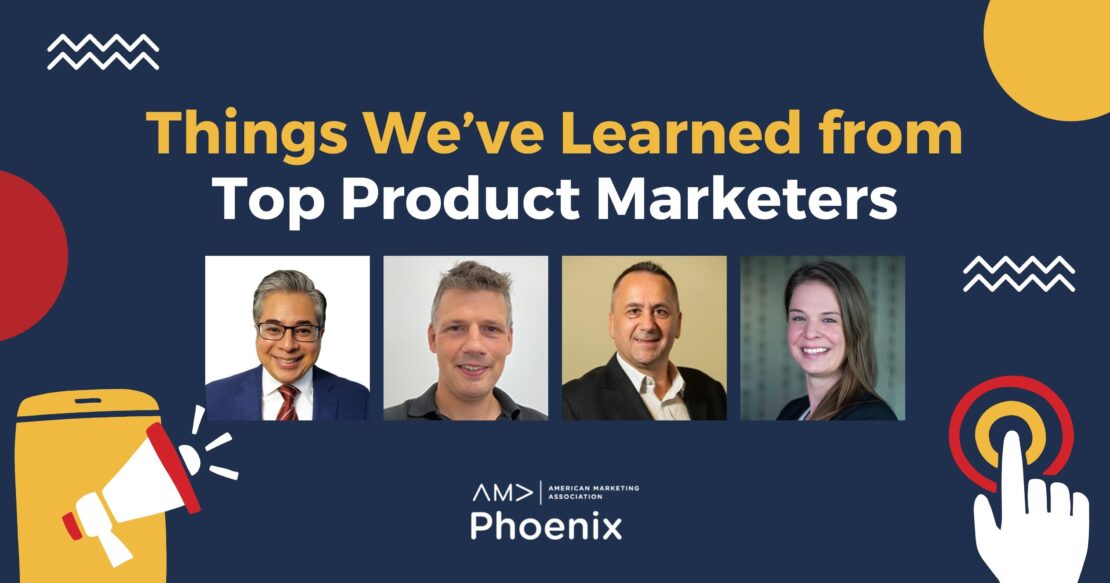 Product Marketers, what is your best advice for those who want to rise through the ranks of the most in-demand marketing role today (product marketing)?

To help you identify what it takes to rise through the ranks in product marketing, we asked product marketing professionals this question for their best advice. From knowing digital marketing inside out to having a deep understanding of your product, there are several pieces of advice that would help you position yourself to succeed in the most in-demand role of product marketing.


Here are seven pieces of advice these product marketers offer those seeking top roles in product marketing:
Know Digital Marketing Inside Out
Develop a Thick Skin
Build a Bridge Between the Four Cornerstones
Develop Soft Skills as Much as Technical Skills
Create a Personal Brand
Master Communication and Build Relationships With Stakeholders
Have a Deep Understanding of Your Product
Know Digital Marketing Inside Out
To rise through the ranks of product marketing, you need skills beyond the scope of your job. The most important skill stack today is in digital marketing. You need this in addition to being customer-focused, having an understanding of how to analyze data, and being a great communicator who works well with others.
Demonstrate that you understand the fundamentals of search engine optimization including keyword research and content strategy from a digital perspective. Show that you know how digital marketing funnels work, from the point of discovery to the point of conversion and beyond. Prove that you can build out an email sequence that nurtures a customer, speaks to their pain points, and drives lifetime value.
Do all of these things, and you will stand out from product marketers who just focus on their specific job. This is important whether you implement any of these tactics directly, or not. You want to be able to communicate with digital teams in their language, to make an impact.
Dennis Consorte, Digital Marketing & Leadership Consultant for Startups, Snackable Solutions
Develop a Thick Skin
Marketing is not for the faint-hearted. It often involves pushing yourself out of your comfort zone, and it's vital to be confident, assertive, and bold if you want to get ahead. You will be regularly invited to contribute thoughts, suggestions, and opinions. In order to come up with imaginative, innovative ideas, it's necessary to take creative risks. It's essential to have a thick skin, and to learn not to take things personally, if you want to succeed.
Networking is also a crucial component of the job, and this requires persistence, persuasion, and pertinacity. You may need to ask favors of contacts, or to convince them to support your product. They may say "No." Rejection is all part of the process, so developing a thick skin will help you to handle setbacks and recover faster.
It will also make it easier for you to cope with criticism, using what is helpful while letting go of what isn't. This stops you from overidentifying with your role and promotes a balanced, healthy outlook.
Mario Cacciottolo, PR & Branding Manager, SBO
Build a Bridge Between the Four Cornerstones
Good product marketers can synthesize ideas across the four cornerstones of a go-to-market organization; product, sales, marketing, and customer success. My advice would be to bring those stakeholders together and synthesize their desires into an actionable plan to drive progress to product marketing-related goals.
You can't succeed as a product marketer without managing those stakeholders. Check out organizations such as the Product Marketing Alliance for specific, actionable tips to drive results in this area.
Justin Schmidt, VP of Marketing, Compt
Develop Soft Skills as Much as Technical Skills
To be a successful Product Marketing Manager (PMM), you need to ensure you develop soft skills as well as deliver on the hard skills. It goes without saying that in order to progress as a Product Marketing Manager you will need to demonstrate that you understand the market, product and competitors. Developing and applying strategies to launch a product and continuously adapting the campaigns during its life cycle are part of your role.
Alongside these essential skills, a rising PMM will be great at motivating teams and leading at the same time as educating those less experienced. PMM's will be proactive with educating people about the product – clear communication is crucial – ensuring well-written information about a product is shared with all areas of a business, from manufacturing to the consumer, sales teams to customer service representatives.

Attention to detail is imperative at every stage of being a PMM, as well as injecting creativity and storytelling.
Ashley Woodyatt, Marketing Manager, Woodyatt Curtains
Create a Personal Brand
Building a strong personal brand will differentiate you and allow you to compete in a competitive job market. After all, an exceptional product marketer should reasonably be able to sell employers on their skills and value they bring to the table.
A personal brand is a culmination of your goals, skills, strengths, mission, and values, all wrapped up into an online identity that's recognizable and consistent. Your website, online resume, social media profiles, and any content you create, all display your brand. Your personal brand is your story and what you want to communicate to people, so you may need to spice it up to stand out.
Consider what makes you unique. What are your biggest ambitions? How have your life experiences impacted your career choices? The more color and compelling details you add to your personal brand the better.
Andrew Chen, Chief Product Officer, CommentSold
Master Communication and Build Relationships With Stakeholders
Working at the intersection of product and marketing, Product Marketing Managers must have an in-depth understanding while building great relationships with product managers.
In addition, a great PMM should understand the market clearly, use a data-driven approach to segment the whitespace, and develop segment-specific positioning to drive revenue. This is dependent on the PMM's ability to translate the technical aspects of a given product into something not only digestible, but engaging.
Heather van Werkhooven, Director, Content & Thought Leadership, Joveo
Have a Deep Understanding of Your Product
The strongest advice I can give young marketers is to know your product! It seems obvious right? Not necessarily.
Too often, marketers in the first five years of their marketing career focus on the different ways a product, or brand can be marketed, with the objective of expanding sales and market share.
To do so, they rely on marketing skills (e.g. branding, marketing research, marketing communications) gained through university studies. Insufficient time is spent understanding how the product was conceptualized and designed.
Knowing your product by spending time with the design and manufacturing teams, gives marketers a deeper understanding of the products' purpose and adds to the existing marketing knowledge that already exists. If nothing else, time spent with the design and manufacturing teams provides an understanding of where the products' quality originated from.
I firmly believe this should be an essential aspect of training for all marketing staff.
Nicholas Grigoriou, Lecturer in Marketing, Monash Business School