September 21, 2022
Posted by:

Adrian James

Category:

Blog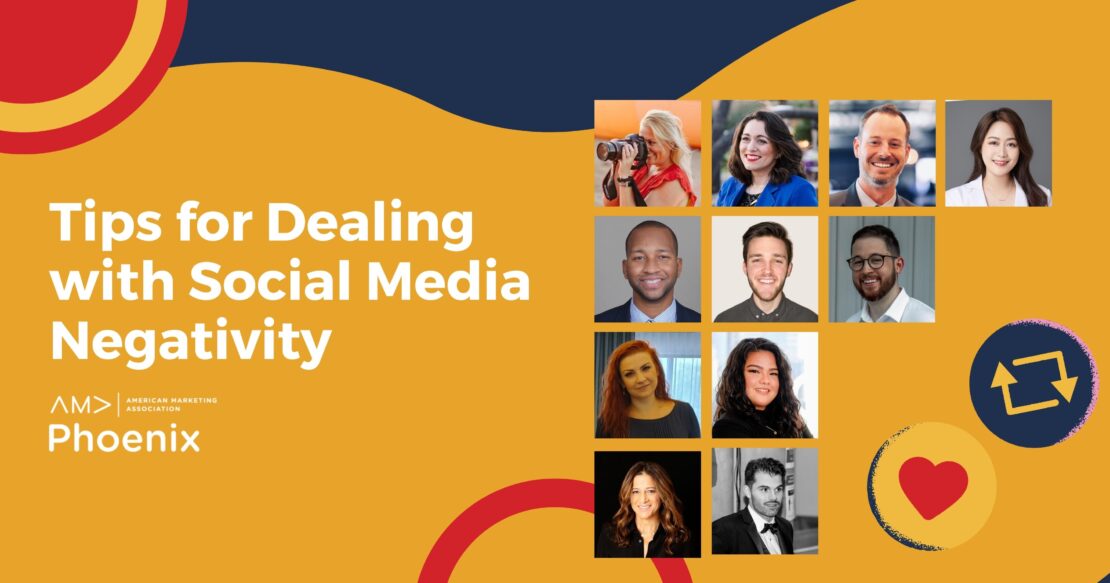 What is one tip for dealing with negative comments and reactions on your company's social media?

To help you best deal with negativity on your company's social media, we asked social media managers and marketing professionals this question for their best advice. From using GIFs to respond appropriately to thanking the commenter as part of your gracious response, there are several tips that would help you choose the best way to handle any negativity expressed toward your brand on social media.

Here are 13 tips these leaders follow to deal with social media negativity:
Use GIFs to Respond Appropriately
Be Transparent and Level-Headed in Your Response
Do Not Get into Arguments
Address the Issue Quickly and Be Human
Remove Inappropriate Comments
Ask Professionally About Any Source of Dissatisfaction
Pick Your Engagements With Negative Issues Prudently
Keep a Solution-Focused Mindset
Respond With the Right Information
Act Quickly and Strategically
Never Delete Negative Comments
Have a Strategy in Place
Thank the Commenter as Part of Your Gracious Response
Use GIFs to Respond Appropriately
When I get a comment that's negative or mean, I almost always respond with a GIF. This can be used to redirect, laugh with the commenter, and sometimes even retort, but what it seems to do is humanize the conversation. It's easy to be a troll when you don't consider that a real person may be answering, but being clever in return – without even using words – can reset a situation. Just try to be your own version of Wendy's, my usual go-to example when it comes to social media response. They manage to be fun without being rude, unless they're commenting on the McDonald's ice cream machine.
Lisha Dunlap, Chandler Gilbert Community College
Be Transparent and Level-Headed in Your Response
Negative reviews can happen to any online business, but you should always be as clear and transparent in your responses to negative reviews. Don't try to make a scapegoat, or deflect, be clear that you hear and understand where the negative response comes from, share how this will be fixed in the future and how you will provide them with a better experience moving forward. The worst thing you can do to negative feedback is delete, ignore, or blame the customer.
Loren Howard, Prime Plus Mortgages
Do Not Get into Arguments
Even when you can be on the winning side, arguments should have no place on your social media handles. Even when other brands indulge in banter with their customers and users, you must resolve to keep your conversations and interactions clean. Yes, comments and reactions can be outrageously annoying, but even when you know they're uncalled for, what's important is to keep your brand's reactions in check to avoid escalations. Retaliatory comments only take the focus away from your original reason for being on social media — showing your brand in a positive light.
Azmaira Maker, Ph.D., Aspiring Families
Address the Issue Quickly and Be Human
The way you respond to negative reviews online can make or break your brand. While good reviews are typically what you want as a company/brand, how you handle the bad ones reflect your brand's values as much if not more than the positive ones. People visiting your page are looking for reasons to connect with your brand. They look at positive reviews with skepticism in mind especially in a world where good reviews can be bought. They look for bad reviews to bring a more realistic perspective on the experience they'll have with your company.
This is the perfect opportunity for you to showcase your excellent customer service – which plays a huge part in customers' purchasing decisions in the past few years. They are known to purchase services and/or products from businesses that offer comprehensive post-purchase customer service over just the products themselves. So when you get a negative comment, make sure to reply as soon as you can. Immediately if possible. And be human.
Rain Flores, Clark Staff
Remove Inappropriate Comments
Some of these comments will be worth responding to, and others not. For example, if you receive inappropriate comments that are entirely out of line and/or irrelevant to your company, you can delete those. Unfortunately, social media is an open playground for people to post whatever they want, and there are times when this can get out of hand. As a business leader, you should remove the comments on your social media accounts that are completely tasteless and unnecessary.
Drew Sherman, RPM
Ask Professionally About Any Source of Dissatisfaction
One way to deal with negative comments on social media is by professionally responding to them with empathy, and asking if the comment could be elaborated on what caused dissatisfaction? Making sure to let the commenter know that this is helping the company better understand what could be done better, or how to fix the situation for them altogether.
Gigi Ji, KOKOLU
Pick Your Engagements With Negative Issues Prudently
Pick your battles. The most important thing to do is to protect your mental health and don't try to respond to every comment or critic. If a mistake was made, truthfully apologize and then take your distance. The overstimulation and attention of an internet backlash can have a huge impact on someone's self-confidence and psyche. Choose the things you think are important to acknowledge and learn from the mistakes, but you can't right every wrong or change an internet mob's mind. Usually, people will calm down after a period of time, so look out for the future and pay no mind to unnecessary negativity.
Ryan Warner, 1AND1 Life
Keep a Solution-Focused Mindset
Keep a solution-focused mindset when interacting with customers on social media. Rather than responding to a negative comment with an apology, try messaging that person privately to see about correcting the situation. If multiple customers reach out with the same issue, make it known that you have received word about the issue and are looking to imminently make improvements. Understand that if a few people bring something to your attention, that many more have probably experienced the issue, shedding light on something that should really be addressed.
Chandler Rogers, Relay
Respond With the Right Information
Social media can be a breeding ground for unwarranted negativity but that doesn't mean you need to match it when it happens to you. If a negative comment is left on your brand page, it's likely that the person is misinformed, and a great way to combat this is to know your products well enough to respond with the right information. When the commenter is met with composure and rationality, the chances of them switching to a more positive perspective is likely.
Marc Roca, 4WD Life
Act Quickly and Strategically
Speed is crucial when it comes to dealing with negative comments and reactions on your company's social media. Still, your response must not only be fast but also strategic. Explain the situation, apologize, and alternate solutions. Be sure to keep a polite manner and do whatever shows that you care for your customers and have their best interest at heart. Such behavior can help you turn the situation around, presenting your company in a good light. On the contrary, ignoring negative feedback is one of the worst things you can do. It gives your customers the impression that you don't care about them and your public relations.
Agata Szczepanek, Resume Now
Never Delete Negative Comments
Don't delete their comments. Negative feedback is a common occurrence on social media that every company deals with at some point. The worst thing a brand can do is try to censor those comments by deleting them. In addition to the fact that it's misrepresenting your reviews to customers, it's likely that the original poster will notice and call it out. This can sew doubt in the minds of other customers as to whether they can trust what they see online or if you're curating to allow positive feedback only.
Vimla Black Gupta, Ourself
Have a Strategy in Place
Have a strategy. It is inevitable for every brand to receive negative comments at some point, so the best strategy is to plan ahead. There are different types of negative comets, some are valid complaints about a product or service that went wrong, others are responses to unexpected negative situations, others are plain straight hate, and your social media managers have to be prepared to answer all of them quickly and properly. Create a set of recommended responses for all these comments, these should reflect your company's brand voice, values, and policies. Always be apologetic, and authentic, be careful with context and, again, be quick to respond. Planning ahead can save you from many uncomfortable situations.
Caroline Duggan, Lumineux
Thank the Commenter as Part of Your Gracious Response
Always reply and thank them for their feedback. They'll feel seen and heard and might just change their opinion of what went wrong. Then apply that feedback to your business and improve it. Let them know that you took it seriously and are using it. Addressing negative feedback graciously shows unhappy customers that you take them earnestly and use their comments to improve.
Brook Hiddink, Audacia Home