August 2, 2022
Posted by:

Adrian James

Category:

Blog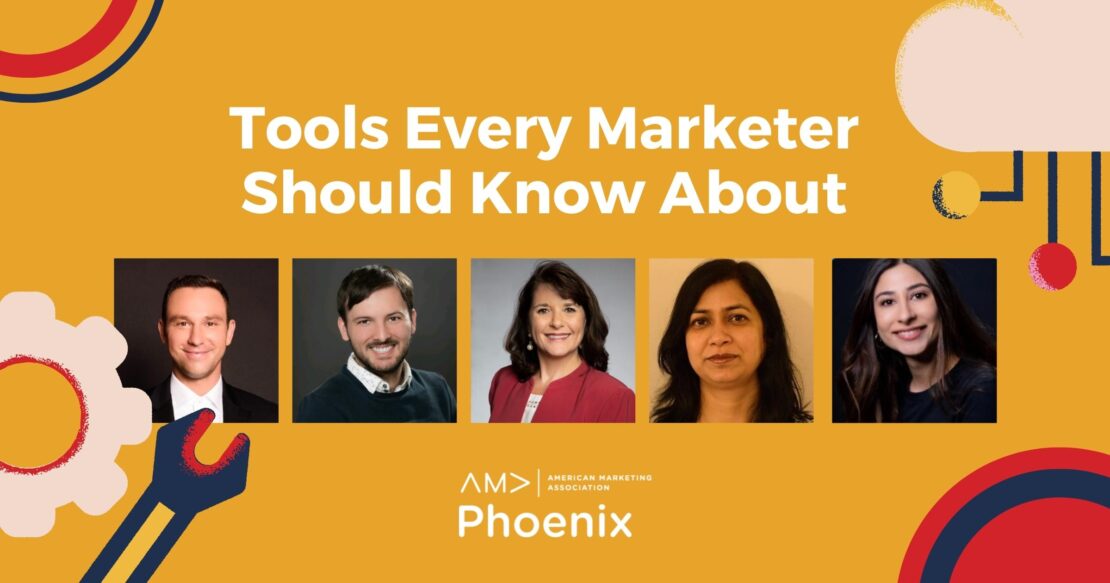 Name a tool you think all marketers should be using and why?


To help you tap the best tech tools for your marketing drive, we asked marketing experts and business leaders this question for their best recommendations. From Flipsnack to Google Data Studio to MuckRack, there are several highly recommended apps and tools that are seen as essentials for any marketer to have in their toolbox.
Here are 12 tools every marketer should know about:
Flipsnack Helps Add Flipbooks to Your Website
Crystalknows Mines Useful Information from LinkedIn Profiles
Loomly Helps Social Teams Work Together on Content
Google Data Studio for Sharing Analytics Dashboard
SparkToro for Gaining Insightful Audience Intelligence
BigVu Teleprompter App Helps You Create Video Content
Automate Processes With The Zoho Suite
Fullstory for Understanding Website Visit Behavior
Mailchimp for Email Marketing
Ahrefs is Great for All Marketing Needs
SEMRush.com is Amazing for Digital Marketing Research
MuckRack Helps Locate Important Industry Stakeholders
Flipsnack Helps Add Flipbooks to Your Website
Content creation is key for all markets, so using a digital flipbook can help you stand out from your competition. Flipsnack is a platform that helps you create a variety of interactive digital publications on your website. The user-friendly interface can help you convert PDFs into page-flipping publications while gathering real-time stats about how they perform. Additionally, you can add features such as social media buttons, shopping carts, and videos to further engage your audience. Consider implementing a digital flipbook directly on your website to reduce churn and increase conversions in 2022 and beyond.
Jonathan Zacharias, GR0
Crystalknows Mines Useful Information from LinkedIn Profiles
Marketers, by definition, spend most of their time contemplating how their messaging and campaigns will be received by customers and prospects. While customer interviews and other research methods can yield certain insights, the more information at a marketer's hands helps them do their job better. Enter CrystalKnows, a tool that pulls information from LinkedIn profiles to determine a prospect's personality style based on the DISC assessment.
Based on the personality result of the prospect, CrystalKnows offers guidance for different types of messaging. The solution is geared towards salespeople, but my team can personally vouch for how it's improved our communication with key target accounts based on this information. Is it 100% all the time? No. But it gets it almighty close – my team even ran it on my profile and found I appreciate a sarcastic comment – wherever would they have got that idea 😛
Patrick Ward, Rootstrap
Loomly Helps Social Teams Work Together on Content
I think that all marketers should use the loomly tool because the "brand success platform" that Loomly calls itself is a great way for smaller social teams to organize and work together on content. Calendars, deadlines, and workflows are already built in making it simple to plan content and generate ideas. Loomly also provides readers with fresh article ideas based on current trends and Twitter chatter. Users who aren't the most tech-savvy will like the clean, simple design. The platform's low-cost appeals to small businesses and agencies wishing to manage their social media profiles.
Eric McGee, TRGDatacenters
Google Data Studio for Sharing Analytics Dashboard
We think all marketers should use Google Data Studio, where customers and team members can share any analytics dashboard. It comes especially handy when you need to talk shop and create new strategies. This is a fantastic free dashboard suite, where you can combine in one view all data from Google Tools and third-party software as well.
Brenton Thomas, Twibi Digital Marketing Agency
SparkToro for Gaining Insightful Audience Intelligence
I'm a big fan of SparkToro and as a paying customer, I've found that it provides highly insightful audience intelligence in an efficient and easily consumable way. It can be applied to a number of different marketing strategies and tactics including (but not limited to): informing paid ad campaigns; pitching relevant podcasts, YouTube influencers, and publications; and defining audiences on social media platforms. Even the freemium version allows users to benefit greatly, so I often find myself recommending the tool to colleagues and business owners alike in presentations or even just through conversation. 10/10 would recommend trying it out.
Vincent Orleck, SMC Phoenix
BigVu Teleprompter App Helps You Create Video Content
All marketers need to figure out how to use video in their work, whether they connect to their ideal customers via social media or create videos to explain their products or highlight their company's expertise. I am a big fan of the BigVu teleprompter app where you can load a script and then use your phone or laptop to record you while using the teleprompter. BigVu is an inexpensive and flexible app that makes it so much easier to create videos in minutes without having to do multiple takes.
Jennifer Drago, Peak to Profit, LLC
Automate Processes With The Zoho Suite
I think a great tool is the Zoho Suite. A benefit is hours of manual tasks being avoided and solid process improvements based on data. Zoho has a suite of inexpensive tools that allow innovative marketers to automate processes and innovate their workflows.
Zoho Social allows a digital marketer to post to the leading platforms from one window at the click of a button which helps save time by avoiding logging into each forum and posting individually. Zoho SalesIQ displays live visitors on the website, drilling down into time spent and pages viewed. From any device, a conversation can be started to provide live support. Zoho CRM is their platform allowing integration with their entire suite of products. The suite is a great value and brings so many benefits to agencies and freelancers.
Edward Pinela, Lightray Solutions
Fullstory for Understanding Website Visit Behavior
We use Fullstory at DreamTeam to understand the website visitor's behavior. We run multiple campaigns on a variety of channels, and each campaign has its own landing page, which impacts the experience and conversion rate of each visitor. Visibility into the user's behavior — dwell time, what caught their eye, which CTA button they clicked on, etc. — allow us to improve the landing page deeper in the marketing funnel and increase conversion rates.
Molly Sonenberg, DreamTeam
Mailchimp for Email Marketing
Don't sleep on Mailchimp. With all the focus on social media these days, many people forget about the power of email marketing. Mailchimp remains one of the most cost effective tools, delivering serious bang for your buck in customer retention leading to new sales. More than 80% of business owners believe that email marketing still has a crucial role to play in 2022 in keeping their customers informed and engaged.
Michael Burghoffer, PicoSolutions
Ahrefs is Great for All Marketing Needs
The digital landscape has become ever-more competitive, and marketers must keep pace with ever-changing search engine algorithms and the latest trends to stay ahead of others. The use of cutting-edge technology can propel your business to new heights in its digital age. Ahrefs is one such tool that should be an integral part of your digital marketing arsenal (and I am pretty sure that you have already heard about it from other marketers).
The reason why I am advocating the use of Ahrefs is that this tool offers multiple functionalities within a single platform. It is the main tool that we use at our marketing agency on a daily basis. Be it keyword research, competitor analysis, content gap analysis, see ranking history, monitor backlink growth, or get keyword ranking alerts, you can do it all! So, you don't need to switch between several tools to do different tasks.
It really provides an in-depth and more granular level of data which helps us make better data-driven decisions.
Sangeeta Kumar, Healthcare DMS
SEMRush.com is Amazing for Digital Marketing Research
I have managed over $35 million in paid ads for over 250+ clients since I graduated from ASU W.P. Carey in 2010. The tool that has helped my clients get the most success is a pro subscription for $100/month with SEMRush.com. This tool allows you to evaluate low-hanging fruit keyword opportunities to target via paid ads or SEO. The keyword magic section gives you estimates of search volume, user intent, and estimated CPC's so you can cherry-pick the most relevant phrases with less competition.
On top of that, you can literally plug in your competitors' URLs and evaluate their backlinks, keyword rankings, ad spend, and more to help you make a logical decision on your marketing strategies. If you don't have $100/month, they have a free version that you can test the waters. You can also do some free research at Trends.Google.com.
Jeremy Katz, Marketing Crypto
MuckRack Helps Locate Important Industry Stakeholders
MuckRack is a public relations management platform that lets marketers find the most important stakeholders in your industry, such as journalists, content creators, and influencers. So you can develop relationships with them to bring visibility and credibility to your product and service. It will also allow you to monitor news, tweets, and any mentions your company or competitor is getting. One of its most helpful features is the trends report that lets you track the Share of Voice of your company by comparing the number of media mentions your brand has received in a given time against competitors.
Catalina Carvajal, Publicize

Terkel creates community-driven content featuring expert insights. Sign up at terkel.io to answer questions and get published.