July 25, 2022
Posted by:

Adrian James

Category:

Blog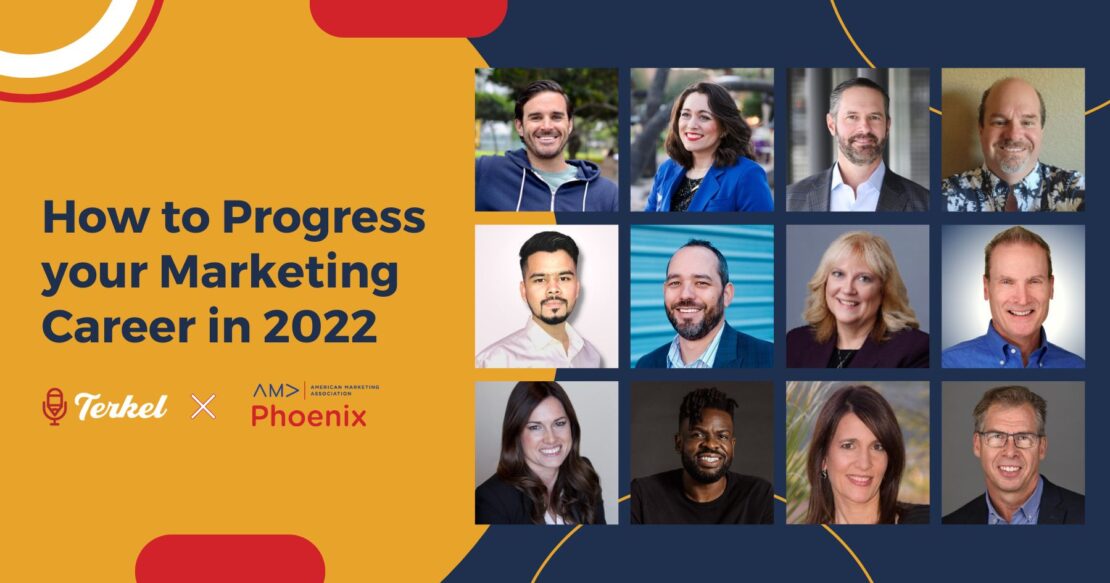 What is the most important skill set marketing professionals should have in today's job market?
To help you diversify your skills and grow your marketing career, we asked marketing professionals and CEOs this question for their best suggestions. From data analysis and presentation to introspection and self-awareness, there are several skills that can make you more competitive in today's job market.
Here are 14 skill sets you should learn in order to grow your marketing career in 2022:
Data Analysis & Presentation
Copywriting
Discipline & Follow-Through
Measurability
Audience Engagement
Relevant Tech Knowledge
Authentic Communication
Adaptability
Digital Marketing
Critical Thinking
1:1 Personalized Marketing
Storytelling
Active Listening
Introspection & Self-Awareness
Data Analysis & Presentation
A marketer is only as good as their results, and professionals who have the ability to not only explain their campaigns but also display them in a visually clear way have a major advantage. The good news is that this doesn't have to be complicated—free and well-known tools like Google Analytics allow you to create and display reports, funnels, and charts. There are plenty of great free courses and resources available to help you increase your skills!
Quincy Smith, Founder, ESL Authority
Copywriting
Copywriting is the most important skill any marketer should have. This is vital for nearly any medium, even in the digital landscape, as being able to write clean and effective copy is the best skill you can have as it makes you more versatile.
Catherine Way, Marketing Manager, Prime Plus Mortgages
Discipline & Follow-Through
The ability to know your audience and the discipline to commit to a marketing plan that will resonate with that audience. Most of my career has been in automotive, but I'm no longer trying to market to people buying vehicles; my marketing efforts today are focused in a unique B2B segment of the industry. So, while I might be intrigued about the promise of a new platform or social channel, if it won't help me reach the intended audience it's best to park that idea aside.
Instead, we focus on the research and marketing strategy we formulated and the tools and mix that will help us deliver on that promise. It can be tough as a marketer to ignore the shiny new object, but often that's exactly what we need to do to be most effective.
Joel Zimmerman, VP, Marketing and Product, CNA National
Measurability
Here is the thing about working in marketing—you don't do just marketing. These days, most marketing professionals wear a number of hats; one day you could be a data analyst and the next day a copywriter, an SEO expert, or a video content creator. But it really doesn't matter which hat you are wearing on any particular day, because no matter what, any marketer needs to be measurable to succeed.
This is arguably the most important skill for any digital marketing professional because you need to know what works and what doesn't so you can adjust accordingly. A marketer who doesn't measure, isn't marketing.
Erica Pollock, Writer and Digital Marketing Specialist, Erica Rae
Audience Engagement
Marketing's job is to get target audiences to engage with the brand, and every target audience is different. That's why there aren't any plug-and-play strategies that work. With the economy in rough waters, companies will stop wasting money on activities that don't provide a low CAC (customer acquisition cost) to LTV (lifetime value) ratio. Marketers that can efficiently find the right customers and cut wasteful marketing have a deep understanding of their target market and adapt to their needs.
For starters, I suggest checking out Spark Toro and the stuff Rand Fishkin is putting out. Beyond that, ask clients for interviews, listen to sales calls, learn the lingo, and know what 'a day in the life' looks like. This deep understanding of the customer will help you cut out guesswork, focus on what works, and prove you're the key to driving the company's revenue/profitability.
Keegan Brown, Director, Marketing & Partnerships, Easy On Hold
Relevant Tech Knowledge
There is a lot of new technology in the market and the speed of which it comes out is not going to slow down anytime soon. Sales and marketing experts need to be able to identify companies and people who are actively researching solutions their company offers. That means identifying high quality prospects who want to and can make a decision to purchase what you have to offer. No one is looking for leads any more. Develop strong, hard hitting, high quality content and put it where the people with the highest chance of being engaged will go to research the services and solutions you offer.
Scott Roof, President and CEO, Yes We Can! Advisors, Performers & Closers
Authentic Communication
It's ironic that in an industry where the tools and mediums are constantly changing, the actual "secret sauce" remains the same. With customers holding more and more control over how they interact with brands, authentic communication has never been more critical. Consumers are savvier, more opinionated, and less susceptible to gimmicks than at any time in history. The most successful marketers will be those who can establish authentic customer relationships.
Lad Makinde, Co-Founder, Co-Media
Adaptability
An adaptable marketer will be called on as a business adviser, sales leader, usability expert and so on, depending on the business situation. It's crucial that marketers are open to change, as it can fuel creativity and allow you to evolve and grow. Think of it like this: The world is a different place than it was a few years ago, our ability to serve our customers has been significantly impacted, and smart marketers swiftly adapted their strategies as a result. We understood the best way to be successful was to embrace the change as an opportunity and sharpen our marketing sword.
Elie Goodman, Director, Marketing Strategy, Walmart Health
Digital Marketing
The most important skill set marketing professionals should have in today's job market is the ability to effectively use digital marketing tools and strategies. With the ever-growing importance of the internet and social media in our lives, it's more important than ever for businesses to be able to reach their target audiences online.
Digital marketing is a vast and complex field, however, so it's important for marketing professionals to be able to understand and utilize a variety of digital marketing tools and strategies. Some of the most important skills they should have include SEO, content marketing, PPC advertising, social media marketing, and email marketing. Marketing professionals who are able to effectively use these skills will be in high demand in today's job market. Those who can't keep up with the latest digital marketing trends and technologies will likely find themselves struggling to find work.
Syed Ali Abbas, Founder & CEO, Target Cooking
Critical Thinking
If you want to succeed in marketing today, or really in any area of your life, it's important to develop critical thinking skills. Oxford defines critical thinking as the "objective analysis and evaluation of an issue in order to form a judgment". Critical thinking means that in any situation, you listen to hear what people are saying and feeling, research the larger context to understand complexity, learn from best practices and others around you, apply multiple lenses to consider the challenge or problem from various viewpoints, and then form a direction, opinion, or judgment to proceed with a course of action. Critical thinking will help you lead from whatever position you currently find yourself in.
Carol Turpen, Chief of Staff, Keysight
1:1 Personalized Marketing
With consumers addressable across all of their devices, traditional media consumption upended by on-demand streaming and a shift in power from brands to consumers in the purchase process, today's marketers must have a basic understanding of digital identity resolution: how people are mapped to devices and targetable across screens. Brands are rapidly shifting from traditional mass marketing approaches to one-to-one, personalized marketing.
Marketers who don't have a basic understanding of how these technologies work and how to effectively reach their target consumers will be at a disadvantage in planning, executing and measuring effective marketing campaigns. Smart marketers are gaining a deep knowledge of the opportunities and limitations, both technological and legal, required to power 1:1 marketing. And will have the edge in a location-independent job market where candidates are competing with the best and brightest people from around the world.
Chuck Moxley, Global Head of Marketing, Blue Triangle
Consumers are bombarded with impersonal marketing messages every day. With inordinate amounts of data at our fingertips today, there is no excuse not to get personal with your audience. Leading marketers who embrace AI to deliver personal messages and offers will win the race. Whether you are in B2B or B2C, personalization will be key to your success.

Tevia Arnold, SVP, Global Marketing, SymphonyAI Retail
Storytelling
Storytelling evokes emotions that resonate long after the message is shared. I found my storytelling voice as a young journalist when the publisher of my newspaper saw my frustration and suggested, "Write like you speak." I learned that creating a connection with an audience requires vulnerability and authenticity as words are weaved into engaging messages. Storytelling helps marketers to simplify complex ideas, create cultural connections, evoke the imagination, captivate audiences, and build customer loyalty, which in turn amplifies brands.
Jen Miller, Senior Marketing Manager, RHEIA, LLC
Not only will you need to compete for the attention of your consumer, but you will also need to win hearts and minds within your company. To do this, you will need to tell one hell of a story and answer: Who cares? Why should the customer take time to interact with you? Why should people believe in your idea? A great storyteller can not only answer 'who cares' but move people to action.

Joe Grusman, CMO, Offerpad
Active Listening
One of the most important skills that has served me well as a marketing professional is an innate curiosity, even a hunger to understand my target customers from their point of view within their environment. Using the highest level of listening, called Level 3 listening, allows the marketer to fully understand what customers say within the context of their entire surroundings.
By practicing this listening skill throughout all interactions with customers, the marketer puts aside their own preconceived ideas about what customers want based primarily on what they say, but also captures what they are not saying through subtle cues that uncover their underlying feelings, thoughts, and motivations behind their words and actions. Strong connections with customers can be built when marketers listen well and offer a distinct advantage over their competition.
Doreen Clark, CEO & President, Way to Goal Business Insights
Introspection & Self-Awareness
One of the most important strategies you can implement today as a marketing professional is being more open to feedback. Accepting positive and negative feedback can be a real challenge for some people. Make feedback easier to give and receive, and be open to it. Once you give or receive feedback, say "thank you" and then reflect on it and write it down. You don't have to write down everything, but consider writing down a few things that might have the most impact on yourself and others now and into the future. In the end, you will become a better and more self confident leader.
Allan Switalski, Head of Marketing
Terkel creates community-driven content featuring expert insights. Sign up at terkel.io to answer questions and get published.