July 15, 2022
Posted by:

Zander Buel

Category:

Uncategorized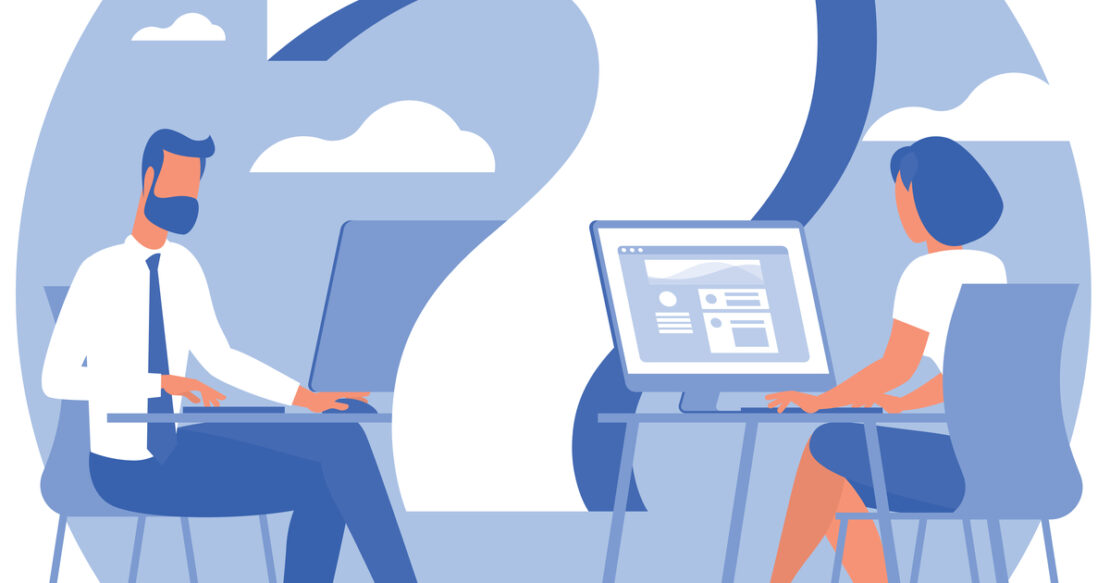 You're probably on the job hunt or open to it if you're reading this blog. At the start and height of the pandemic, professionals were gun shy about making any big moves in a disruptive marketplace. A lot has changed. Today there are five million more job openings in the United States than unemployed people—let alone ones who are qualified. The Great Resignation has made it tougher to hire and keep great talent, you know, like you. So, with baby boomers resigning in droves and others calling it quits in record numbers, your InMail and Inbox might be blowing up even if you haven't toggled that Open to Work LinkedIn setting yet.
While a lot has changed, like working cultures and expectations, and undeniably, a talent's job market for the foreseeable future, some professional norms are still important to keep your reputation, personal brand, and career on track. We have your job-search etiquette quiz ready to help you avoid irrevocable professional damage and just generally bad work karma.
Peruse these questions to see if you can get them right:
I've received a better offer after accepting another one, awkward! Do I really have to contact the employer I signed with first before changing directions, or can I let them figure it out?
Yes, they should get the message.
It's less than preferable, but it's a job seeker's market anyway, you have the power.
No, ghosting an employer and not following up or showing up on your start date is completely unprofessional.
Do you like being ghosted? Have you ever had a company or even a friend leave you hanging without canceling your well-cemented plans? It's painful when a friend flakes out for no apparent reason, but even more upsetting sometimes if a recruiter or hiring manager goes radio silent without any explanation. After all, your professional goals and dreams—and yes—quite possibly your bank account, are in the mix. It's demoralizing, upsetting, and a waste of your time that you could have focused on someone who was ready to make and keep plans. And it goes without saying that once a friend or a company ghosts on you—it demonstrably changes how you feel about them and if you'll ever engage in the future.
Now, put yourself in the shoes of a hiring manager who has spent weeks, if not months, searching for the right fit for their open role—they decided that was you. They invested hours of company time on interviews, interview follow-up between Recruitment, Human Resources, and team members, and drawing up and maybe redrawing up your offer letter and agreement. Offers take an even higher level of buy-in from stakeholders who control the budget—sometimes climbing all the way up to the C-suite. They know your time is important. That's why they've invested so many (billable) company hours in you already.
Life is messy. Business can be too. Maybe a better offer slides in just before (or after) your start date. It's understandable if you decide to go a different direction—companies do that all the time. However, it isn't acceptable to just ghost the employer. It isn't professional, and it can do major damage to your professional reputation. A lot of potential hiring managers may share your connection. Trying to avoid a conflict now can add up to a hot mess in the future. Worst case scenario, your new manager might hear from the previous employer who is trying to piece together via LinkedIn and frantic emails and phone calls what happened to you. That could damage your reputation at your new job.
The answer is hands-down C. Ghosting an employer is completely unprofessional. Like any breakup, these important dialogues are best handled via phone, but even an email is better than going poof. Just don't do it.
I can't wait to resign and stop working at my current company. In fact, I want to quit on the spot, 2-weeks notice is so 2019, isn't it?
Go for it, as long as you aren't under a contract.
If you don't think you want to stay in touch with your employer, why would you give them notice?
No, two-weeks notice is the standard and a must to avoid burning bridges and your professional reputation.
It depends.
Let's face it, you spend most of your waking hours working. So, if you're miserable at your current employer, it might be tempting to call it quits on the spot or even just stop showing up. Before you make a decision, you need to consider your professional and legal exposure and your quality of life. This question is more complicated to navigate.
First, if you're a contract employee, you may be in breach of that contract if you quit without notice. Walking out could mean lost pay and possibly even legal threats. Again, good workers are hard to come by these days. You're in demand. So, make sure you know where you stand legally. If you're in a right-to-work state, then you and your employer have the right to end your employment at any time.
Finally, let's talk about your mental and physical health and wellbeing. Being in a toxic work environment can damage your home life and your health. Whether dealing with a bully, a hostile working environment with cut-throat politics, unreasonable workloads, or all of the above, you need to reflect on how much of a toll it's taking on you.
First, if your supervisor has sexually harassed or physically abused you, then it's time to head for the hills. You might want to drop your HR manager an email on your way out.
If you're dealing with the more typical work annoyances, ask yourself if it's healthy for you to continue and if another two weeks will put an unreasonable strain on your health or sanity. If it will, then you can explain when you resign that you aren't comfortable finishing out in two weeks and are giving your notice effective immediately. If you can stomach another two weeks of your annoying boss or team member, you probably should. Even after you've left the company, you may want to have a reference or two who you worked with during your time there. An abrupt resignation and departure can make that much tougher.
So yes, the answer to this question really is it depends.
I've received an offer from a company that doesn't meet my expectations. Am I in a position to make demands? Should I use their offer to get a better counter-offer from my current employer?
Don't make demands, but see how you can move the needle, think bigger than just your annual salary.
Yes, tell your manager they need to beat this offer to keep you, and may the best business win.
Just accept the offer as-is, you don't want to start your role off on the wrong foot.
Knowing how to negotiate is a powerful tool. You may not want to ask your boss to beat your subpar offer. The truth is that once you do, the trust is gone. Even if your manager doesn't want to jump along through the hoops and mental gymnastics of hiring someone else, if you're ready to jump ship now, they may expect you to leave soon regardless or pull out another offer to match or beat in a year or two. If you've been interviewing to the point that an offer has materialized, there's probably a reason for wanting to leave.
Making demands can make your offer disappear, but you can negotiate diplomatically. Do some research. Use industry and geographical salary averages based on your experience to back your salary expectations and see if you can nudge them closer.
Even if they can't meet your magic number, there are other handy levers that really add up. See if you can get educational reimbursement added to your agreement. Or, work on getting a better title that sets you up for higher-paying roles there or elsewhere in the future. You could also ask for a one-time signing bonus that won't be a recurring expense for them to up the anty. Be upfront, but be friendly and professional. Remember, theoretically, you want to work there, or you wouldn't have come this far, right? If the company or offer just don't feel right, and you can afford to, pass it up and wait for the right employer and price.
The answer is A. Don't make demands but see how you can move the needle negotiating.
Have more questions? Staffing Strong has answers.
We're ready to help you make some difficult decisions and decide how to navigate the next steps in your career. Because while the job search can be stressful, it helps to have experts on your side—no matter what the market. Submit your resume and connect with us.
Meet the Author
Evelyn Vega is the Founder and President at Staffing Strong and the Past President of the Phoenix American Marketing Association. Since 1999, she's been dedicated to supporting her clients in building meaningful careers and partnering with businesses in finding quality hires. Evelyn sits on various advisory boards in her free time and enjoys practicing on her drum set!