July 12, 2022
Posted by:

Adrian James

Category:

Blog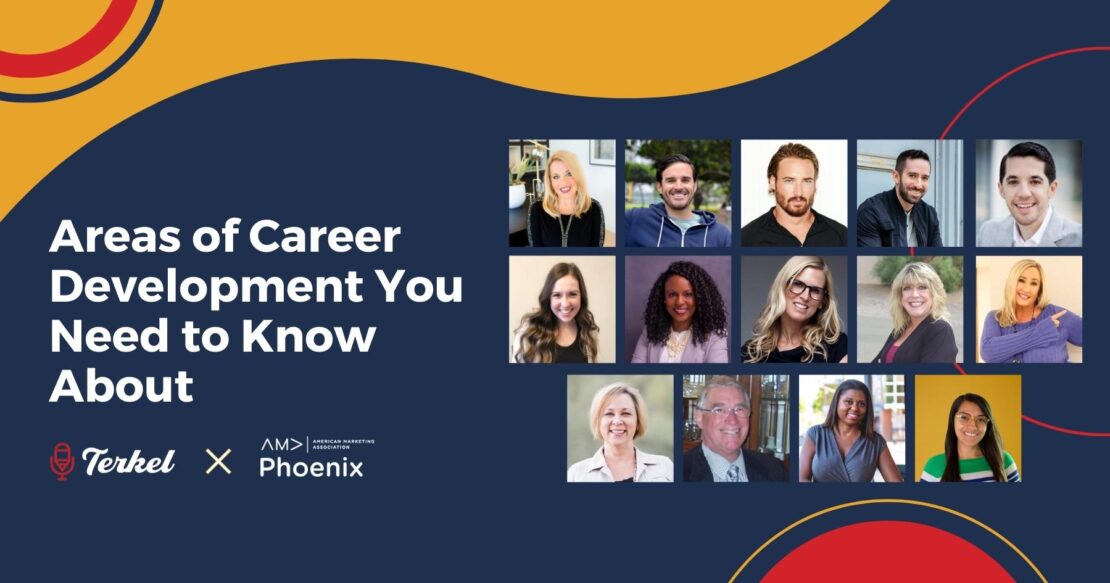 Name one area of career development you think is important?

To help professionals develop in their careers, we asked CEOs and marketing leaders this question for their best ideas. From communicating effectively to building leadership skills, there are several recommended areas of career development that you should prioritize for growing in your professional career.
Here are 17 important areas of career development :

Communicate Effectively
Develop Your Public Speaking Ability
Understand Your Finances
Exercise Your Imagination
Establish Organizational Skills
Learn other Languages
Convey Virtual Professionalism
Invest in Yourself
Maintain Critical Thinking Skills
Start with Self-assessment
Develop Your Performance-Managing Skills
Tell Your Story
Build a Personal Brand
Find a Mentor
Track Your Career Development Accomplishments
Develop Self-awareness
Build Leadership Skills
Communicate Effectively
General business communication is a key area that most individuals could improve upon. This includes writing effective communication, speaking, presenting and more. Communication is a fundamental component of business and how you can develop and foster relationships. It's critical that all professionals focus on improving their communication style to adapt to their audience, so they can ensure their message is received as intended and there is overall clarity in their messaging.
Elyse Flynn Meyer, Prism Global Marketing Solutions
Develop Your Public Speaking Ability
I think the ability to speak clearly and confidently to a group of people is more important than ever—with remote work here to stay, it's almost inevitable you will have to discuss or even lead discussions in a solo environment. Getting comfortable with public speaking will not only allow you to better convey your ideas, it will also help you be prepared to participate—or even lead—a meeting regardless of whether you're online or in person.
Quincy Smith, ESL Authority
Understand Your Finances
As your professional career begins to develop, it's important to understand how this will impact your personal finances. Depending on whether you're working as a company employee or a freelancer, your career will have completely different impacts on how you manage your income and file your taxes. Rather than find yourself scrambling to get organized and stay in compliance, take a look at and adjust your financials anytime your career changes or evolves.
Carrie McKeegan, Greenback Expat Tax Services
Exercise Your Imagination
Creativity is an essential and often overlooked aspect of career development. Though some positions and industries seem devoid of imagination, that mindset and analysis is exactly why creativity is needed. Beyond our professional capacities, humans need to exercise their individuality and artistry in order to fully understand themselves and their purpose. No matter the profession, exercising your imagination and creative expression is necessary to stay engaged and prevent burnout.
Dan Potter, CRAFTD
Establish Organizational Skills
No matter how many seminars you listen to or vitamins you take, without organizational skills they will be wasted. Organizational skills and methodology for time management, data and documentation will reduce the time required to accomplish menial tasks, allowing you opportunities to grow and develop your career momentum in more profound ways. In order to grow and develop in your career, you need a firm foundation in organization tactics and practices.
Chris Vaughn, Emjay
Learn other Languages
Learning other languages is one skill set that never goes out of fashion for companies with supply chains, clientèle or business partners from foreign countries. Not only do language skills boost your potential salary, but they also demonstrate your proficiency with a skill set many people have difficulty picking up.
Chinese, French, Spanish and Arabic are all particularly popular languages across various industries—including tech to finance—that help businesses build partnerships overseas. We all have access to language education through the internet and language proficiency apps. If you can develop competency in one or two languages in addition to your mother tongue, it will impress your employers and make you a versatile asset for various businesses with international horizons.
Zach Goldstein, Public Rec
Convey Virtual Professionalism
Even if you are working on-site, you are likely engaging with business partners, clients and vendors working remotely. Because many companies have shifted into fully remote or hybrid work due to the pandemic, employees should know how to be professional in a virtual setting. Some instances to convey virtual professionalism include practicing proper etiquette during video conferences, being comfortable using digital tools and replying to emails promptly.
Benjamin Farber, Bristol Associates, Inc.
Invest in Yourself
Investing in yourself is an important part of career development that I think is vital. You can invest in yourself in many different ways. This could mean taking a course to improve your skills, reading books regularly to learn new things or connecting with people. There are many ways you can invest in yourself to level up as a part of your career development.
Investing in yourself can also help shape your career development. You may learn something new and be surprised that you want to go down a different career path!
Macy Sarbacker, Macy Michelle
Maintain Critical Thinking Skills
In today's world, virtual meetings and connections are becoming more of the norm versus face to face meetings. New employees are onboarding virtually, potential candidates are interviewing virtually and receiving training—you guessed it—virtually.
In a virtual world it's easy to lose valued soft skills. One area of career development that is highly important is critical thinking. Critical thinking enables employees to articulate their ideas and thoughts. The employee can communicate effectively with ease to decrease frustration for both the deliverer and receiver. Critical thinking applies to every area of life, personally and professionally.
TK Morgan, Tuesday At 1030
Start with Self-assessment
Assessment, or getting to know yourself, is the first step. What are your values, passions and interests? What kind of work environment do you want to be in, hybrid or remote, faster or slower paced? Know where you'd be a good fit and what your ultimate goal is. This may involve working with other professionals such as a career coach or taking skill inventories. Knowing yourself through assessment is the best first step to career development.
Amy Keller, Climate Candy
Develop Your Performance-Managing Skills
In my career, I've always managed people-managers. The most common development area for them was performance-managing their employees. Because my managers were always nice people, they felt bad for having those hard conversations. Avoiding those conversations was doing a disservice to their employees as well as their company.
The only way for your staff to grow in their development is to have those difficult conversations and mentor them on their improvement areas. Allowing poor performance to continue is not helpful to anyone.
Vickie Johnson, Dream Champions Inc. – DBA: The Entrepreneur's Source
Tell Your Story
Each time you write a resume, draft a cover letter or answer an interview question, you're telling employers parts of your career story, in hopes of inspiring them to choose you for an opportunity. That's why your ability to communicate your experience, strengths and skills in a way that resonates with employers is a career necessity. To navigate change throughout your career, you will need to master career storytelling by understanding and communicating how your work makes a difference, solves problems and creates a measurable impact.
Steven Starks, The Muse
Build a Personal Brand
The idea of personal branding for career professionals is relatively new to most people, but with online platforms like LinkedIn, personal branding is more important than ever.
A personal brand isn't just logos and fonts—it's so much more than that!
Your personal brand is how you promote yourself. It is the combination of your unique skills, experience and personality that you want to be known for. Personal branding helps set you apart from other highly qualified executives and helps sharpen the role that you see for yourself in the workplace.

Branding also helps you build trust with prospective clients, employers and employees. I believe your personal brand carries you through life, not just your career. Think about it, you will most likely change careers every three years, but your brand doesn't change—it stays with you.
Mary Fain Brandt, Mary Fain Brandt Coaching & Consulting
Find a Mentor
How many times have you asked someone for advice and thought to yourself "That was a waste of time!" Mentors play an invaluable part in career development throughout all stages, whether you are seeking an advancement, career shift, board seat or sounding board.
Lucie Yeomans, Your Career Ally
Track Your Career Development Accomplishments
It is vitally important for exempt employees to track your performance evaluation assessment through a weekly activity report (WAR) system. Consider sending an unsolicited WAR email to your boss every Friday at 3:00 p.m. without fail. This activity report contains only three or four succinct items of project or accountability accomplishments unique to the present week.
Supervisors merely construct their brief items from the email responses their direct report employees have submitted to them every Thursday at 3:00 pm. There should not be any surprises at the official performance evaluation times!
Rod Meyer CPC, MODERN CAREER DECISIONS
Develop Self-awareness
Developing self-awareness is the first thing that you should do when you are thinking about career development. Self-aware people not only know their strengths and their weaknesses, but they also have a clear understanding that they are not the subject matter expert on all things.
Self-aware people surround themselves with a strong network of intelligent people who can lift them up. They gain mentors and sponsors from that network, which in turn helps them move faster up the career ladder. So what's the first step? Ask for the gift of feedback and begin to really understand how you are perceived, so that you can become more self-aware.
Tamica Sears, Sears Coaching
Build Leadership Skills
Building leadership skills is essential to rapid career growth. A person with leadership skills can not only direct, guide and command a group of people, but they are able to inspire and motivate a team to be unified and reach their full potential—and the company goals. Most executive and supervisory roles require leadership skills, but in order to advance you must also possess these, even when you do not hold such a role.
Work on becoming an effective communicator. Learn to mentor others and practice inspiring and encouraging your colleagues. As a leader, you will be managing people and you must learn to give feedback properly. Gain the skills of project management and practice thinking strategically in each project.
Liz Hogan, Find My Profession
Terkel creates community-driven content featuring expert insights. Sign up at terkel.io to answer questions and get published.