April 14, 2022
Posted by:

Adrian James

Categories:

Blog, Branding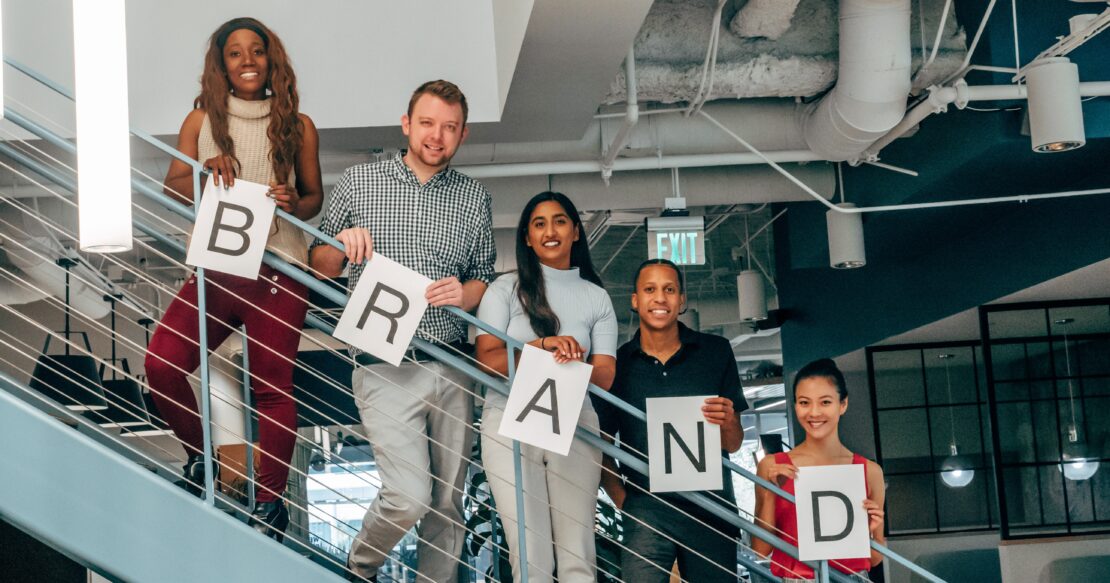 What is one easy way to immediately improve an employer brand?

To help you improve your employer brand, we asked HR leaders and small business owners this question for their best insights. From sharing your social values to increasing workplace flexibility, there are several tips that may help you enhance your employer brand.  

Here are 12 ways to immediately improve an employer brand:

Share Your Social Values
Offer Unique Benefits
Ensure Your Hiring Team is Professional and Fair
Create a User-Friendly Website
Include Testimonials
Tell the Story of Your Company
Participate in Employer Awards
Update Your Presence On Job Sites
Harness Internal Surveys
Volunteer to Inspire Communities
Choose Employee Brand Ambassadors
Increase Workplace Flexibility
Share Your Social Values
Many Millennial and GenZ workers want meaningful employment at companies that embrace the same social values. Through a well-crafted social media campaign, you can invite these job seekers on your brand's journey to effect positive change in the world. Establish separate accounts for your CSR communications so that your audience will know where to look for regular updates, news, and relevant asides. And tell the story of your initiatives using videos, photos, and posts that depict the progression of your efforts along a timeline.
But be honest about any challenges you may encounter to keep your efforts authentic. A well-rounded story is the kind of engaging content that results in an abundance of shares and tweets praising your good deeds. And a robust social media campaign highlighting your business's good works will build brand awareness and attract like-minded top talent wanting to help your business effect positive change in the world.
Chris Gadek, AdQuick
Offer Unique Benefits
The best way to differentiate from competitors to attract top talent is to offer unique benefits that are enticing and highly desirable. As younger people start to join the workforce, you have to consider what benefits will draw them to your company over others. They value things like unlimited vacation time, work-life balance, stellar company culture, volunteering opportunities, etc. By offering the kinds of benefits that make your company an enjoyable place to work, you'll attract more candidates.
Maegan Griffin, Skin Pharm
Ensure Your Hiring Team is Professional and Fair
One of the easiest ways a company can immediately improve an employer brand is to make sure your hiring team is professional and fair throughout the hiring process. The main aspect of the employer brand that most people will judge first will be how your company handles hiring and workplace integration. There have been countless companies who have used unprofessional, unfair tactics and methods to find new employees and that is always a straight way to get negative reviews. Make sure you appoint professional, fair, and level headed individuals into your hiring team and when you finally hire a perfect candidate, make sure their transition into the workplace is as helpful and smooth as possible.
James Burati, 1-800-PackRat
Create a User-Friendly Website
Your website is often the first impression that potential employees will have of your company, so you want to make sure that it is representing you in the best way possible. If your website is outdated or difficult to navigate, it will reflect poorly on your company as a whole. Take the time to update your website regularly and make sure that all of the information is accurate and easy to find.
Cody Crawford, Low Offset
Include Testimonials
Positive testimonials on your website from current and past employees are essential third-party validation tools that can help you earn the trust of those considering applying for a job at your company. When people see that others have spoken highly of your company, they will feel more convinced that it is a good place to work.
Nick Shackelford, Structured Agency
Tell the Story of Your Company
Tell the story of how your company got started in your digital marketing, whether in a blog, the homepage of your website or in your social media posts. Be honest and genuine when telling this story, yet shape it into a compelling journey. You can do this by showcasing how the business owner took either a pain point or a curiosity and transformed that into a new vision. Emphasizing the human aspects of the story such as the passion to fill a particular gap in the market is a great way to showcase your company's brand.
Matt Miller, Embroker
Participate in Employer Awards
Participating in local and regional employer "Best of" awards are a wonderful way to showcase your company as a preferred place to work. These types of awards are usually given annually by a magazine, large newspaper, or chamber of commerce and include an anonymous third-party satisfaction survey for associates. Topics the survey may cover include compensation, benefits, flexibility, workplace culture, growth opportunities, and overall employee engagement. Any awards received can be displayed in the office as well as on the company website and job postings to attract potential employees. By putting your company forward for public recognition, you not only acknowledge the organization but the value your team contributes to being a preferred workplace.
Benjamin Meskin, Cabrella
Update Your Presence On Job Sites
LinkedIn, Glassdoor, and Indeed offer an opportunity to describe/update your employer brand for free by adding a description of what your company does, what the work culture and benefits are like, and the ability to add employee photos, etc. The information can be updated on each platform in less than 30-45 minutes. To some candidates, if you do not have a custom description of your company, you don't exist as a company.
Scott Baker, Stage 3 Leadership
Harness Internal Surveys
Conducting frequent employee satisfaction surveys is a great way to gauge your current internal employer brand and find ways to improve existing practices to make yourself more appealing to outside talent. Word-of-mouth and reviews from both current and former employees is a vital element of any employer brand. Ensuring that you're gathering feedback and quickly acting to respond will indicate that your business values the opinions of employees, whilst also improving retention rates and increasing satisfaction. These surveys should be conducted anonymously, providing employees with the best possible opportunity to express their feelings and guide your business towards tangible improvements.
Teresha Aird, Offices.net
Volunteer to Inspire Communities
Volunteering is one easy way to immediately improve an employer brand because it inspires communities. Businesses are staples of our daily lives—people seek everything from services, products, and insight from them, but they also support those that have good reputations. The power and purity of volunteering proves that when people care and come together, change is more than possible. This inspires others and encourages more participation in charities and other endeavors to help our communities. Volunteering rallies people together and breeds leaders who lead by example. Businesses that volunteer are heavily involved in the communities they serve and establish themselves as trustworthy brands that people want to support.
Datha Santomieri, Steadily
Choose Employee Brand Ambassadors
One way to immediately improve employer branding is to have brand ambassadors among your employees. One thing you may be overlooking is that your employees are running their own social media channels. And those who are doing it actively probably have established a community with regular viewers. Use it to the company's advantage. Encourage your employees to publish on their social media information about the company. Ask them to use the company's hashtags, post images, or share content published on its channels. But why should you even do that? Employees' content generates trust, emphasizes authenticity, and drives more traffic online. So, let your employees be a positive voice for your brand.
Agata Szczepanek, MyPerfectResume
Increase Workplace Flexibility
Good employer branding is imperative in attracting top talent to your organization. The easiest way to immediately elevate it is to boost workplace flexibility. For candidates, flexible schedules and the possibility to work remotely have become the most valuable company perks, especially for the youngest generations of workers.
Start by evaluating what would improve your employees' satisfaction and work-life balance the most without negatively affecting business. Consider allowing your employees to choose their own work hours and to work remotely. Make sure to implement any new technological solutions necessary to keep effective, unhindered communication between co-workers once the flexible workplace options are introduced.
Maja Kowalska, Zety
Terkel creates community-driven content featuring expert insights. Sign up at terkel.io to answer questions and get published.