February 4, 2021
Posted by:

Adrian James

Categories:

Content Strategy, Uncategorized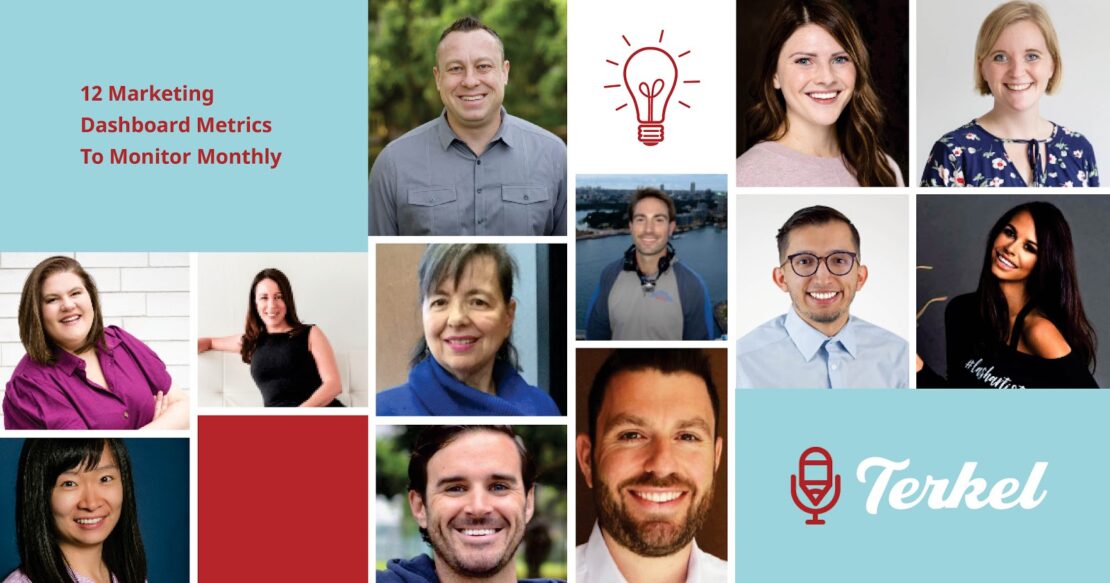 What metrics do you monitor monthly on a marketing dashboard?
To help small businesses monitor monthly on a marketing dashboard, we asked business professionals and marketing experts this question to find out what metrics they use. From domain rating to keyword rankings, there are several potential metrics that you can use to monitor your marketing dashboard.
Here are thirteen potential metrics to monitor your marketing dashboard monthly:
Contact Form Submissions
Qualified Leads
Impressions
Anything Related to ROI
Domain Rating
Monthly Innovation
Keyword Rankings
Referral Traffic and Top 10 Pages
Cost Per Lead
Comparison of Three Months of Data
Conversion Channels
Likes, Shares, and Comments
Branded Searched
Contact Form Submissions
Contact form submissions are the most important metric on our marketing dashboard. This is one of the main ways clients can reach out to us and get a quote for their project. We utilize Google Tag Manager to accurately track how many forms are being submitted each month, and it is a great way to keep an eye on the ROI of our digital marketing efforts.
Blake Murphey, American Pipeline Solutions
Qualified Leads
Many companies measure a marketing campaign's success off of qualified leads. Sometimes a successful campaign produces a low number of contact form submissions, but, in turn, a high number of qualified leads. With every qualified lead that comes through, I make sure to respond to them personally to follow up and keep the conversation going. While we are not a company that gets tens of thousands of leads every month, we are a company that gets a handful of qualified leads every month that convert to paying customers, which is what matters in the end.
Ryan Nouis, TruPath
Impressions
When sending out reports to clients on their SEO success over the last month, I always like to highlight the number of impressions their site received based on info from Google Search Console. As defined by Google, "a link URL records an impression when it appears in a search result for a user." This means that even if someone does not click on your page URL, Google is still serving that page to that user. Getting Google to recognize and serve content is half the battle for SEO, so seeing impressions is a great metric to monitor monthly.
Kayla Centeno, Markitors 
Anything Related to ROI
As a digital marketing enthusiast, I keep my eye on the ROI of all my various activities. The most important metrics to me are revenue, number of transactions, average basket size, and of course, new vs. returning website users. The key to success is growth, so my goal is to see an increase in all these metrics every month.
Vanessa Molica, The Lash Professional
Domain Rating
Our company has recently invested in Digital PR, which allows us to be positioned as thought leaders on a wide variety of topics in articles just like this! Through these efforts, our site Domain Rating has skyrocketed, making our company more authoritative on the internet. We track this metric monthly to see how it increases and tie it to the digital PR opportunities we were featured in.
Stephanie Schull, Kegelbell 
Monthly Innovation
I work on monitoring our monthly innovation KPI. This metric is based on the new volume in our innovation pipeline that is currently being sold at supermarkets compared to our overall volume. We monitor this metric closely to meet our annual innovation objectives and determine if newly released products are fulfilling consumer's needs. We also use it internally to determine how innovation is impacting our business and if we need to dedicate more resources.
Sebastian Ogaz, Sigma
Keyword Rankings
We measure metrics from a number of marketing channels monthly, including keyword rankings (for a number of primary and secondary keywords we have identified as important to our business and industry), our reach on social channels, visits to the website from different sources and leads from those sources (including lead conversion rate) and the number of domains providing backlinks to our website. This monthly overview helps us monitor our marketing performance and see whether our strategies are making a positive difference.
Camille Brouard, Myhrtoolkit
Referral Traffic and Top 10 Pages
I think it's critical to know how someone got to your website (referral traffic) and where they go once they are on your website (top 10 pages). Both of these give you important information on who your visitors are and what they want. You will also want to pay special attention to those that converted.
Katy Smithy, Smallwave Marketing
Cost Per Lead
The success of a marketing campaign depends on how well your website and content convert your website traffic into leads. Or, if they manage to acquire more customers with minimum possible costs. Thus, the cost per lead (CPL) is a metric that defines the main conversion index for a particular campaign and the corresponding cost, giving information to everyone on the team about its profitability. The ideal is to try to filter it to establish the cost for each channel and identify which ones are the most profitable. However, you should not reduce a channel simply because the CPL is higher. Often, you may find that customers on that channel spend more or more often than those coming from another channel, which is less expensive.
Sylvia Kang, Mira
Comparison of Three Months of Data
One of the most important metrics to monitor for MuteSix is a comparison over the past three months. Since many experts suggest that you allow 90 days for a new marketing strategy to show its true colors, it's a good timeline to follow for any marketing or sales comparisons. Plus, if a campaign isn't working the way that we'd hoped, we want to have all of the data that we need to make a successful pivot. Simply comparing to the previous month may not offer enough information to make well-informed decisions.
Greg Gillman, MuteSix
Conversion Channels
Recently we've been looking at conversions by channel (including assisted conversions), revenue per visitor, and traffic by channel. The idea is to better understand where our traffic is coming from, which channels are contributing to revenue and how to add more touchpoints to help visitors convert. We look at all of these on Google Data Studio and share reports monthly that feed into quarterly planning.
Quincy Smith, ESL Authority
Likes, Shares, and Comments
I want to drive more people each month to my website so they download my freebie and get on my email list. Thus, I want to know how many visitors came to my website and where they came from. Based on that data, I can adjust my next month's strategic and tactical plans accordingly. I also check to see what search terms brought them to my site through Google Search Console. On social media, I check to see which posts got the most engagement: likes, shares, comments, etc. Knowing that, I can better plan my content to attract more visitors to my site. If the visitor count is lower than the prior month, I look to see how many blog articles I published. The more I publish, the more traffic I get.
Giselle Aguiar, AZ Social Media Wiz
Branded Searches
As a fashion watch retailer, we monitor how many online searches are conducted for our company name, "Tic Watches." By monitoring brand mentions, we are able to analyze brand awareness trends for our online retail stores in the US and internationally. An increase in brand awareness typically correlates with an increase in sales, which is why this metric is a must to measure on a marketing dashboard.
Daniel Richmond, Tic Watches