January 7, 2021
Posted by:

Adrian James

Categories:

Branding, Uncategorized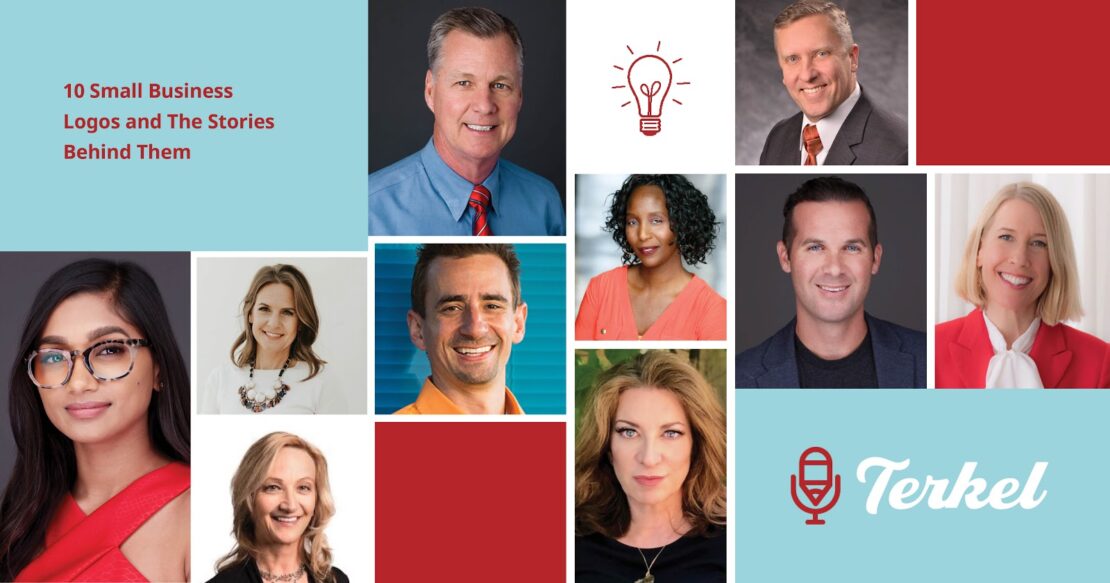 If a picture is worth a thousand words, then a logo has the potential to tell the entire story behind a small business.
To tell these stories, we asked small businesses to share their business logo and the story (or meaning) behind it.
Here are a few small business logos and the stories behind them.
---
Democratize Thought Leadership
When it came to designing a logo for Terkel, we turned to a couple of trusted sources of inspiration: long-time friend and graphic designer Will Mejia, and 20+ book covers authored by Studs Terkel. The core purpose of Terkel is to democratize thought leadership by giving ordinary people a platform to share their expertise. To capture that purpose in a logo, we leaned towards a playful and fashionable typeface that reminded us of writing down something important. The final product felt relatable, and we thought we could do some cool stuff with it. So, it's here to stay.
Brett Farmiloe, Terkel
A thriving American Business
Our AVANA Capital logo stands for "preservation" and the name AVANA literally translates to that in Sanskrit. At AVANA we are focused on preserving wealth for our clients and creating growth for their businesses. The image in our logo depicts a solid, stable building, which represents a thriving American business. Furthermore, our mission at AVANA has always been to support the growth of small businesses, create job growth, and help expand the economy.
Kimberly Kriewald, Avana Capital
Cullum Homes
Our logo was originally designed for a homebuilding partnership we had in the 1980's. When we closed that out, we kept the logo because we liked the design's clean and bold appearance, and also as a reminder of our many years of experience and longevity in the homebuilding business.
Rod Cullum, Cullum Homes
Personal Transformation and Growth
The logo and the name of my company have a special meaning behind them. For years, I worked as a single mom, tirelessly running my own interior design firm. There were hard times, but I worked hard and made it through. After so many years of building my company and going through life on my own, I met and married my husband and became Alisha Taylor. I wanted my business to reflect the growth I had undergone as a designer, business owner, and person and decided to change our name in the summer of 2019. It fits the company perfectly and is the reflection of the personable, boutique business I worked so hard to create.
Alisha Taylor, Alisha Taylor Interiors
"Marketing" + "Auditors"
Markitors is the combination of two words: "marketing" + "auditors." We wanted our logo to nod to both the marketing and financial industries while feeling established, reputable, trustworthy, and focused on growth. To accomplish those objectives, we needed a redesigned wordmark that could be used by itself, with a logotype that is bold, yet professional. We also needed something that highlighted our purposeful misspelling, and the "upward arrow" to dot the "i" represents that nicely. Plus, the period. We believe that SEO is what a small business needs to drive sustainable business growth, so the period to the logo adds some customer-focused confidence. All the credit goes to Will Mejia, who has a gift for transforming desires into dedicated marks.
Nikitha Lokareddy, Markitors
Heart and Foundation of HR
The name of my business, CORE HR Solutions, has a heartfelt connection. Core is at the heart, the foundation for everything business and Human Resources. It is providing a Human Resources solution from a solid base of credibility, compliance, and commitment.
Sonja Talley, Principal HR Consultant
Dedicated for the Independent Population
The name, indipop didn't come to me overnight. I kept thinking about the population I was serving and wanted a name that encapsulated all the solopreneurs, freelancers, and contractors, those who aren't employed by a company and are this "Independent Population" of being out on their own. The brand promise is simple and affordable and the logo reflects this simplicity.
Melissa Blatt, indipop
A 20-page Document Turned into 3 Words
When I was starting my business, a friend that does big brand consultations offered to teach me branding strategies. She shared ideal questions that would ultimately inform my brand, and eventually my logo. After I answered enough questions to fill up 20 pages of a Word doc, I was asked to streamline each category into a few words that represented my brand. I took those words to my friend to align the brand and choose the best logo my graphic designer worked on. We held up to the design of the keywords and easily identified my logo. All the brand attributes are clearly demonstrated, beginning with the organization of the words "Enjoy Life Daily" combined with the passionate energy represented by the backdrop of my signature "Mark Jamnik" I invite my clients to Enjoy Life daily, without having to wait and accomplish all the goals in your business and miss the journey to get there. I love how my logo represents me.
Mark Jamnik, Enjoy Life Daily
Beginning With Heart
The "S" and "2" in S2 Wealth's logo form an embedded heart shape. Every financial plan we do for clients is built around the areas of their life that bring the most joy— family, health, spirituality, and lastly, career. For many advisors, the planning process starts with income and assets, what makes us different is that we approach building a secure financial future begins with the heart.
Keith Piscitello, S2 Wealth Planning
Trying to rework work
The rework work logo came about because I was frustrated as I was working as a recruiter and talking about the way that clients were so cavalier in the way they treated candidates and employees. I was telling someone that we need to rework the way companies hire, recruit, onboard, promote, train, and pay their employees and I said, we just need to rework work. Since then I've evolved our internal strategy and we focus on advising companies on improving their organizational culture, diversity strategies, and retention through inclusion.
Stacey Gordon, Rework Work
Terkel creates community-driven content featuring expert insights. Sign up at terkel.io to answer questions and get published.