December 10, 2020
Posted by:

Adrian James

Category:

Careers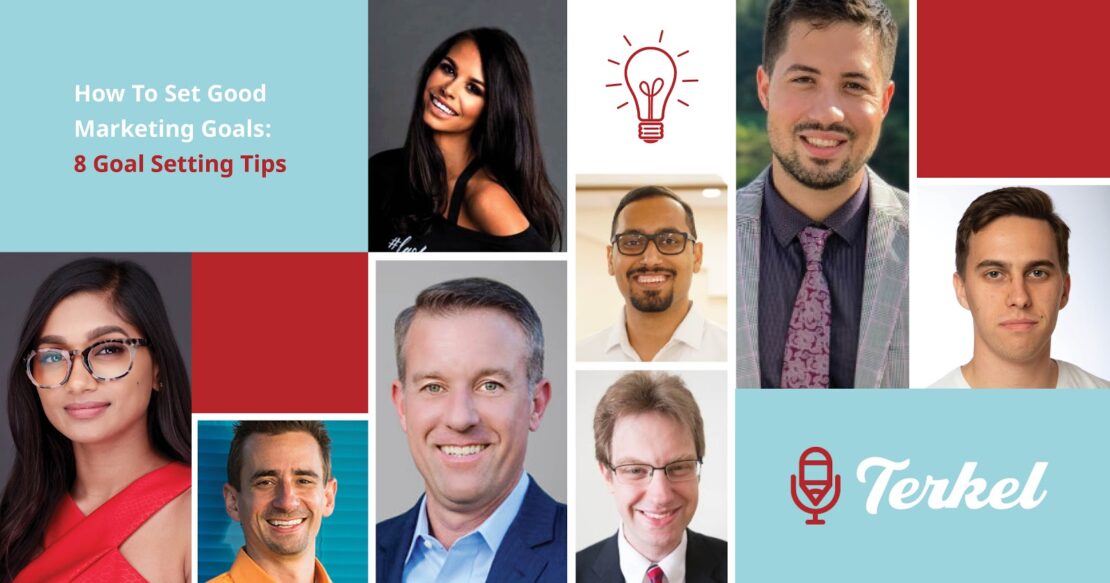 Marketing goals. 
CEOs love them. Marketing managers are held accountable to them. Teams are often driven or detracted by them.
Which begs the question, how can a marketer set a good goal?
To answer this question we asked marketing professionals and business leaders how to set good marketing goals. What tips did they have to offer other marketing professionals looking ahead to the new year?
Here's eight marketing goal setting tips:
Team Feedback
Make Them Achievable
Integrate Your Core Values Into Goals
Start With Why
Small, Miniscule, and Really Tiny
Validate Goals With Others
Discover Valuable Metrics
Set Mental Goals
---
Team Feedback
When setting goals, it is crucial to get feedback from your team. In order to accomplish all the items put forth, you need to ensure that your team thinks it is important, achievable, and that they are on the same page. Without their support, the journey may be all the more difficult and arduous. It may be cliche, but teamwork really makes the dream work!
Nikitha Lokareddy, Markitors
Make Them Achievable
Good goals are those that are achievable. If your goal is to make $800,000 in revenue, but your growth is not on par with that number, you are setting yourself up for failure. Be sure to spend your time diving into data and ensuring that you are creating realistic goals for you and your team!
Vanessa Molica, The Lash Professional
Integrate Your Core Values into Goals
It's important to first understand your core values! Once they have been identified, you should then goal set around those values. Your values should drive all business decisions, including quarterly and annual goals.
Mathew Hammond MD, Carrot Eye Center 
Start With Why
The best goal is one that meets the needs of the customer. Before setting your goal try to create a customer persona and understand their "Why." A person's "Why" is their core belief or motivating factor. Simon Sinek's, Start With Why, is a great book to help learn more about this. When you understand what makes your customer happy, build your goal so that it realizes this. And that's how a marketer can set a good goal.
Syed Balkhi, WPBeginner
Small, Miniscule, And Really Tiny
The key is to set goals that continue to stretch you, not stress you. Many have heard of SMART goals. I was on a Mastermind call and a fellow panelist shared a new acronym for SMART goals. She reframed SMART goals into (Small, Minuscule, And Really Tiny.) Too often, entrepreneurs set huge goals to begin with and fall way short or never start because it's too big. Instead, start small, build momentum quickly, and grow the goal. e.g. If you've never run, you don't start by running a marathon; your goal begins simple, like running for 5 or 10 minutes. After you successfully build momentum, the goal grows larger each time you achieve until you eventually set your "moon shot" goal.
Mark Jamnik, Enjoy Life Daily
Validate Goals With Others in Your Company
There are two levels to create a good goal as a marketer. First, your goal needs to be in alignment with the goal achievement methodology. For example, an effective goal would have a deadline and a measurable component (e.g. "Grow email list by 1,000 subscribers by March 31, 2021"). Second, marketers need to validate their goals with others in the company, especially sales. Find out what your peers in sales need in terms of leads and craft your marketing goal to support sales. Without a tight link to sales, marketing runs the risk of being perceived as irrelevant.
Bruce Harpham, Technology Marketing Consultant
Discover Valuable Metrics
Most importantly a goal has to be tangible. Too many times, marketers hunt for vanity metrics that don't reflect the real state of the business. Go for something that you can measure (in simple terms), is falsifiable by the other (counter) metric, and has an impact on your business. For example, conversion-to-view is much better than simply conversion or just views (while goals like views, likes, etc. are usually nothing more than vanity metrics).
Jakub Kliszczak, Channels
Set Mental Goals
If you're a marketer, you may already know that the quickest path to burnout is setting goals that are unrealistic. Even if your team leader has pre-set goals for every month, if you feel they're unachievable, set your own "mental goals." You'll find that it's both more successful and realistic to set achievable goals each month and increase them as you progress.
Travis Killian, Everlasting Comfort
Terkel creates community-driven content featuring expert insights. Sign up at terkel.io to answer questions and get published.