November 11, 2020
Posted by:

Adrian James

Category:

SEO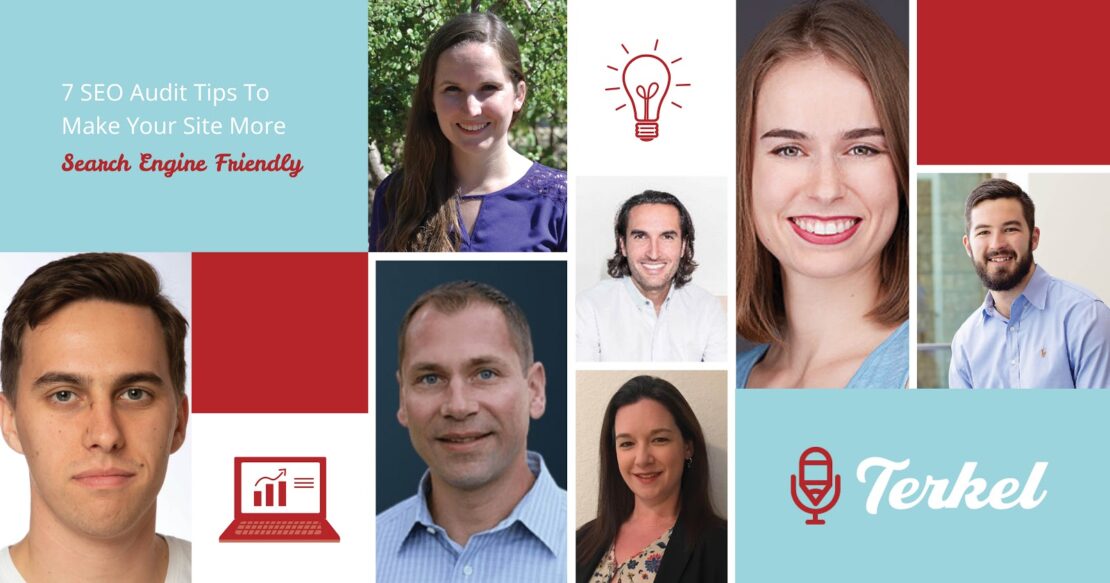 Search Engine Optimization, commonly referred to as SEO, is an excellent marketing strategy for businesses looking to increase their online conversions. Regardless of what industry you specialize in, chances are that your customers are searching for your services online! If you aren't showing up on the first page of Google, or even worse, your competitor is ranked above you, you are missing out on a potential customer. That is why it is important to ensure that your site is search engine friendly!
To identify some easy ways you can improve your site, we've asked seven SEO enthusiasts to share their tips. Keep reading to identify some simple, actionable ways you can start increasing your conversions and overall visibility on the internet.
---
Internal Links
A fantastic way to make your website more SEO friendly is by having internal links. When auditing your website, this is a simple and easy improvement that you, the owner of the site, can make. Having a link on one page of your site that takes the user to another page on your same site will not only keep them on your page longer, but it will also alert Google that your website is of importance. Having several internal links will help improve your SEO rating and over time the more links, the higher the rating.
Zack McCarty, Qwick
Title Tags and Meta Descriptions
Well-optimized meta titles and descriptions don't just give extra hints to Google about what your website is about. They also influence how likely people are to click through to your website after seeing the title and description on a search engine's result page. Think of them as an ad on a newspaper's classified section. How can you succinctly tell what each page is about in a way that makes someone want to read more? Auditing a site's meta data is also a great way to identify target keywords to further optimize each page.
Raquel Thoesen, Markitors
Niche Optimized Landing Page
Find a niche and create an optimized landing page to highlight it. While we are a recruiting agency handling many industries, we are focusing a lot of our efforts on nonprofit organizations. Instead of leading nonprofit traffic to our homepage with general information, we created an optimized landing page specific for nonprofit recruiting. According to the SEO research firm, MarketingSherpa, only 44% of clicks for B2B companies go to a homepage, not a landing page. Yes, the homepage is important, but a landing page is where you can initiate a strong relationship and get specific information across to your site visitor!
Jon Shneider, Recruiterie 
Use Proper Tools
Use proper tools and don't hesitate to ask questions when you hit a dead end. A full SEO audit can't be done without tools like Ahrefs, Screaming Frog, or Majestic. You need to spend some money and get used to such tools to uncover all possible flaws of your on-site and off-site SEO. Even then, if you don't know how to interpret certain results don't hesitate to ask. The SEO community is usually very responsive and helpful, plus there are people who do paid audits and consultations.
Jakub Kliszczak, Channels
Avoid Duplicate Content
Duplicate content can be a big challenge for many companies. Sometimes that duplicate content is from other franchise sites, other product pages within the company's site, or distributor websites. However, having unique content is so important for SEO. When conducting an SEO audit, keep an eye on duplicate content issues. When correcting this issue, create a few additional paragraphs of unique content that can help amplify the message of the page.
Jennifer Klemmetson, Radiall
Quality Control for BERT
Companies should focus on content quality rather than blindly stuffing keywords into their content. Google's BERT update considers the user experience of visitors. Metrics like bounce rates and average time on page play a critical role in influencing search engine rankings.
The best way to improve user experience metrics is to establish strict quality control measures with your site's published content. Doing so tells search engines to rank your site higher if they noticed visitors enjoy consuming your continent.
Yaniv Masjedi, Nextiva
Update Your Content
To ensure your website's content is relevant to those who visit, the SEO audit tip I suggest is to make sure your content is current. In addition to adding new content, your website will get boosted in search rankings by simply updating older content. You certainly don't have to replace or do a major overhaul to your content, that would be too time consuming. Instead, you can simply tweak a previous blog post and refresh the publish date. This way, when your site gets crawled, the content will be recognized as fresh, which will boost the search engine traffic for this page
Jennifer Leicht, Marketing and Small Business Consultant
Terkel creates community-driven content featuring expert insights. Sign up at terkel.io to answer questions and get published.