November 11, 2020
Posted by:

Adrian James

Categories:

Business plans, Content Strategy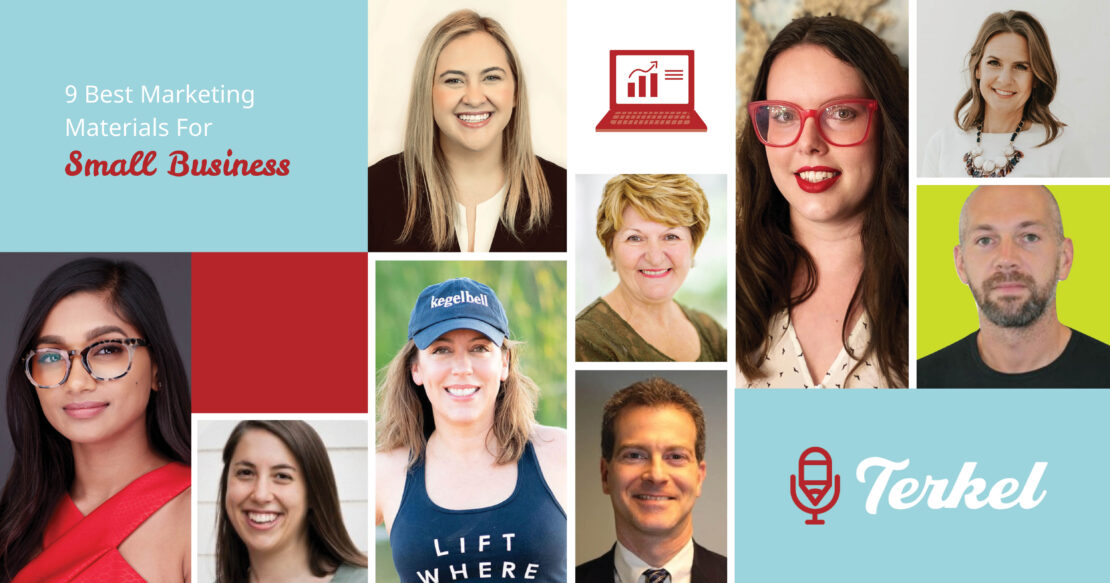 In order to generate a healthy and loyal customer base, it is imperative for small businesses to invest in marketing materials that speak to their audience. In today's environment, small business owners have a variety of options to choose from whether it be more traditional strategies like radio and billboard advertising or digital ones like SEO and social media. All options can expand your reach and drive more leads for your business, you just have to decide which avenue is best for you.
To give you a better idea of all the tactics at your fingertips, we've interviewed eight marketing professionals and asked them which marketing materials they find to be most effective for small businesses. Keep reading to identify the one that is the right fit for you!
---
Stickers
Print is not dead! The important part is to be creative with the marketing materials you are printing. Our brand is a fun, bold brand that is anything but cookie cutter. Business cards and brochures are important, but our favorite marketing material is stickers! We have an array of branded stickers that successfully convey what our brand is about. Our favorite sticker has our logo on a unicorn. Marketing materials are meant to be fun and memorable, and our stickers do just that.
Stephanie Schull, Kegelbell
Blog Posts
As an account manager for small businesses across all industries, I believe the best marketing materials are blog posts that are optimized for keywords you would like your business to rank for. Because small businesses are seen as more trustworthy than their big corporate counterparts, you can capitalize on this by authoring blogs targeting your customers' frequently asked questions. This way, you can provide true value to them and be top of mind when they are in need of your services!
Nikitha Lokareddy, Markitors
Print
Printed marketing materials such as business cards, brochures, and informational packets are especially useful for a variety of industries. Having professionally printed items with visually appealing branding can really add an aspect of professionalism to your business development activities.
Eric Blumenthal, The Print Authority
Credible Testimonials
Some of the best marketing is word-of-mouth marketing and a positive testimonial can really build up your brand credibility. Take some time to build out your Google my Business page and ask for testimonials from satisfied clients. Once you have reviews on Google, you can then share them on your website, brochures and social media to build up your credibility.
Audrey Hutnick, Smallwave Marketing
Top Executive LinkedIn Profiles
The personal LinkedIn profiles of your top executives are priceless as marketing tools. Yes, you need a LinkedIn company page but the most successful companies in the world (Apple, Amazon) are probably only generating 6 leads a year from that source. On the other hand, the personal LinkedIn pages of your executives are pure gold in reaching both prospects and potential employees.
Joni Holderman, Thrive! Resumes
Social Media Presence
You can't overlook a well thought-out and actively used social media presence. As a small business, pick one to two platforms and manage them very well. There's nothing worse than going to a Facebook page and seeing the freshest post being one from two years ago. Organic social posts have the opportunity to become viral, but overall social media is the new word-of-mouth. Don't discredit it.
Hana Ruzsa Alanis, Graphic Designer & Marketing Specialist
Ultimate Guide To…
Start creating content. Simple! Start by putting everything you know into an 'ultimate guide to…' piece of content. The important thing to remember is that this guide doesn't have to be super professional, forget your hangups, don't spend hours on design. Put something together in Google docs or Word, save it as a PDF and get it out there.
Doug Dennison, MailNinja
User Friendly Website
Your website is often going to be the first place people look at your business, so I would say make sure your website is user friendly. It needs to be clear what your business does and what problems you solve almost instantly when a person lands on your site. Also, a clear navigation and site map that allows people to easily find the info they need (and helps search engines crawl your site) will help!
Marissa Litner, SmartRent
Cookies
At Alisha Taylor Interiors, creativity is at the forefront of our business. That's why with any piece of marketing material we send out, we try to think outside the box. When we first announced our new company name in the summer of 2019, we created custom, gourmet cookies perfectly decorated with our new logo that looked almost as amazing as they tasted! Because we work with so many custom home builders and vendors across the valley that we wanted to make aware of this change, we delivered these cookies to everyone we've worked with, past present or future. The cookies were a hit and proved to be an incredibly successful, and delicious, marketing tool.
Alisha Taylor, Alisha Taylor Interiors
Terkel creates community-driven content featuring expert insights. Sign up at terkel.io to answer questions and get published.