October 20, 2020
Posted by:

Adrian James

Category:

Uncategorized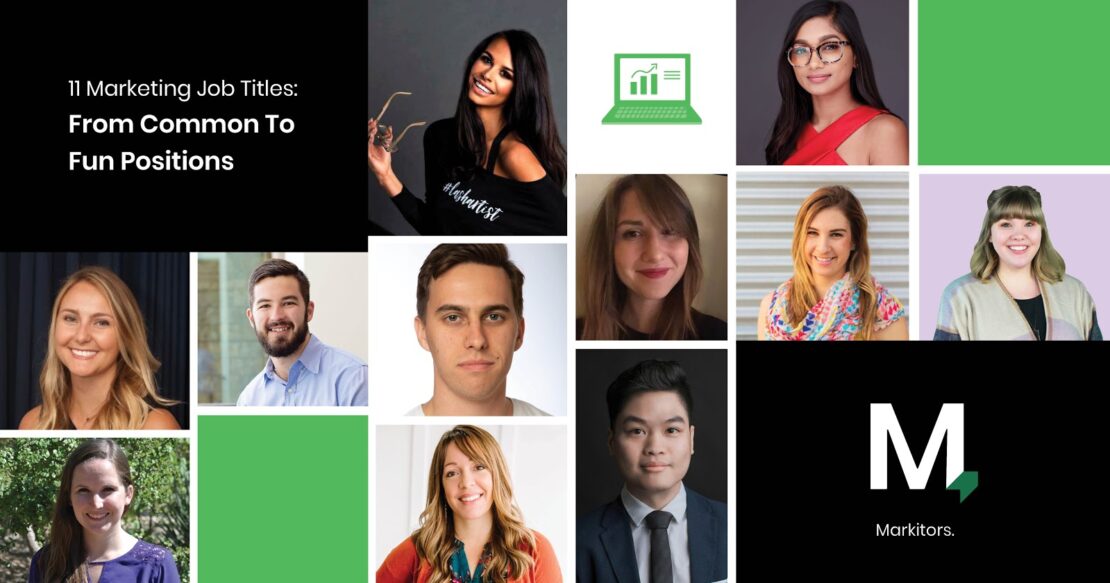 From "Marketing Ninja" to "SEO Guru", there are plenty of odd job titles that have penetrated the marketing industry. While this doesn't mean you have to be filling your career pages with outlandish job titles in order to attract the talent you want, it does mean that you should create titles and positions that denote the skills and values that reflect the person in, or aspiring to be in, that position.
It's important for job titles to be specific and give a good idea of what that person does on a day to day basis. To give you ideas of common to fun marketing job titles, we sat down with 11 professionals to discuss their title and the responsibilities their role entails.
Director of Marketing
I usually explain my role as Director of Marketing by saying, "If a patient is going to see it or if it has our logo on it, it either came from me or got my stamp of approval." This includes our "Please Don't Flush Garbage" signs in the bathroom, our TV ads and everything in between.
Chryssa Rich, Primary Health Medical Group
Director of Growth
My official title at Qwick is the Director of Growth, but many people like to call me the professional helper. My responsibilities are around growing both groups within our two-sided marketplace (professionals and businesses) and building tools that help other members of our team be successful.
Zack McCarty, Qwick
Senior Digital Marketing Specialist
In my current role, I make sure nothing gets lost in the shuffle of new technology, to make sure attribution is properly tracked, that we follow global laws, and make sure the sales team has a steady income of opportunities. During college, I worked behind a desk, which I loved, but I wish I'd done more internships so I could have found my passion earlier. I spent my time in entry-level positions trying to figure out what it was that I was in love with. It took me about 3 years to learn that it was digital marketing and data management that made me tick.
Amanda Reilly, Honeywell
Marketing Manager
My job title is Marketing Manager. I am responsible for how we present our company and brand to outside groups, including other businesses and clients. My job includes ensuring that we maintain a professional appearance within our industry, exposure among related topics and improving our discoverability online.
Megan Chiamos, 365 Cannabis
Head of Marketing
I manage and oversee sales, marketing, delivery operations and reports as well as the marketing budgets. I focus on strategy for the website, content (written and video), design, product releases, SEO optimization, and social. I run distribution (including email) and advertising.
Meagan DeMenna, Discover Podium
Director of Client Services
My official job title is Director of Client Services, which means I am in charge of all the accounts at my marketing agency. My job requires me to overlook all the various departments working on my clients' accounts and ensure that everything is running smoothly. I am also responsible for hand crafting my clients' monthly reports and running all client facing meetings! Overall, it is an exciting position where everyday is different and fast paced.
Nikitha Lokareddy, Markitors
Creative Director, UX/UI
My job title is Creative Director, UX/UI. I manage my team to craft content and experiences for students that are functional, useful and delightful. Over the last year, we've had the opportunity to create a design system – a library of components fit to be used across the company's digital products and experiences. Additionally, I have had the opportunity to build our internal UX/UI creative practice, a 15 person team of designers and writers that work across a multitude of products – from the marketing website to the online application and into the student portal. In all of these functions, our job is to empathize with students, guide our stakeholders and collaborate with our product teams, design solutions and validate how they may or may not solve the defined problem.
Liz Magura, University of Phoenix
Marketing Specialist
For me, the position Marketing Specialist means I'm doing all things inbound and a
part of outbound marketing (besides prospecting for partnership opportunities). If I had to explain my job position in one sentence it would be that I take care of how people find, see, and interact with our brand.
Jakub Kliszczak, Channels
Founder
I am the Founder of The Lash Professional. As the Founder, I seek to find the best opportunities to provide quality products and services for other aspiring lash professionals. I give lessons, both in-person and online, sell products and I blog. Being the founder requires a lot of marketing know how to spread the word of my company to our target market.
Vanessa Molica, The Lash Professional
Content Marketing Manager
I specialize in content SEO—running the company's blog, with over 2 million monthly visitors. I also aid product teams on marketing and sales related campaigns, such as email blasts, sales pitches, marketing/sales video scripts, and general strategies for the company.
Hung Nguyen, Smallpdf
Digital and Social Media Specialist
I am the Digital and Social Media Specialist. I handle the SEO and social media strategy and content for all Radiall companies around the world. I'm also a freelance content creator, working with local companies on SEO blog content and landing pages.
Jennifer Klemmetson, Radiall