September 16, 2020
Posted by:

Adrian James

Category:

Uncategorized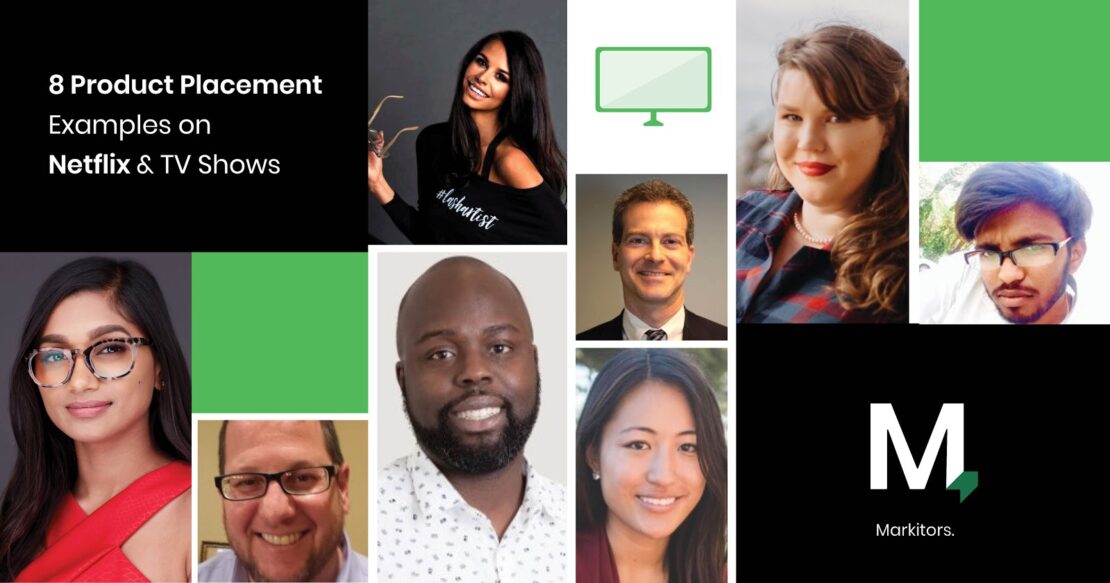 With over 182.8 million subscribers worldwide, it is no secret why marketers turn to Netflix to market their products. Product placement is an extremely popular marketing tactic because products can seamlessly integrate into any storyline and appear very subtle – but they are highly effective in generating brand awareness.
Chances are, some of your favorite brands got their big break after being featured in a popular movie or tv show, and you didn't even know it! To demonstrate how prevalent product placements are in the day and age of Netflix, we sat down with 8 marketing experts and asked them to share their favorite show and what product placements they have noticed in it.
Stranger Things
Stranger Things has been one of my favorite shows, and a very popular one. The unique thing about product placement in Stranger Things is that brands have adapted their modern look to appear more aligned with the time period of the show. The retro variation of various brands to better blend into the show helps them show viewers that their products belong in their everyday lives, just like the characters.
Vanessa Molica, The Lash Professional
Queer Eye
One of my favorite shows on Netflix is Queer Eye! The show is about the "Fab Five" giving deserving individuals a lifestyle makeover. Because they are essentially upgrading everything in their lives, they often spotlight different brands throughout the show in a very authentic way. For example, Tan France always takes the individual shopping at a certain clothing store, like Bonobos, and showcases all their clothes and tailoring options. This provides the brand with awesome exposure that doesn't come across in a "salesy" way!
Nikitha Lokareddy, Markitors
The Last Dance
At the moment, I have been watching The Last Dance on Netflix. This docu-series follows Michael Jordan and his last season with the Bulls. Of course, you can't have a Michael Jordan documentary without a spotlight on his deal with Nike. Although it may not seem like a traditional product placement, there was almost an entire episode dedicated to analyzing the shoe and why it was so important to his career.
Eric Blumenthal, The Print Authority
Schitt's Creek
My favorite Netflix show at the moment is Schitt's Creek because it's lighthearted and often heartwarming. One product placement example I can recall is the GMC Yukon XL car in season 6. I thought it was a great product placement because I almost never notice cars but this one stood out to me and now I know what a Yukon car is.
Tiffany Shan, Film Recommend
Black Mirror
Black Mirror: Bandersnatch is my favorite Netflix show because of its interactive technology. The concept itself blew my mind and was so fun to watch. Within the show, you are able to make choices and pick what is going to happen next. In the first choice between Sugar
Puffs or Frosties, when you select one option, the closeup shot lasts for a good 2-3 seconds focusing on the brands ( Kellogs for Frosties, Quaker for Sugar puffs.)
Pranay Anumula, Keka
Space Force
My favorite Netflix show that offers product placement is Space Force. They offer many products, but the one that always catches my eyes is Apple. The show uses all sorts of their products like iphones, and tablets. They also have a deal with Dell though because most of the computers used in meeting rooms are Dell brand.
Derin Oyekan, Reel Paper
30 Rock
30 Rock is one of my favorite shows and I think they did product placement really cleverly.
There are a number of episodes where they openly discuss a product like Snapple iced teas or Verizon Wireless phones and get humourous with it by asking for their money in the sketch or having someone wear an item of clothing in the scene that says "product placement."
Personally, I've always found these effective because they really drill the product into your head, while giving you the idea that the brand was cool with being a part of a joke like that. These sketches don't come across as forced the way product placements can. There were a number of Modern Family and New Girl sketches with car placements and the episodes would include an entirely unrelated scene of the characters in cars discussing the cars features. It never blended in with the show and always left me feeling icky about the car. 30 Rock did it right!
Cara Wood, ShopPad
Mr. Iglesias
Netflix is one of the top downloaded and subscribed networks from around the world with a number of hit series and movies. One best example would be their show featuring comedian Gabriel Iglesias in his show Mr. Iglesias. One scene is literally him talking about companies selling out their rights just for endorsement, while at the same time showing to the camera a mug with the Netflix logo on it. It was incredibly funny and was the epitome of product marketing.
David Meltzer, East Insurance Group LLC