Ecosystem Design: Finding Your Ideal Peers, Partners and Customers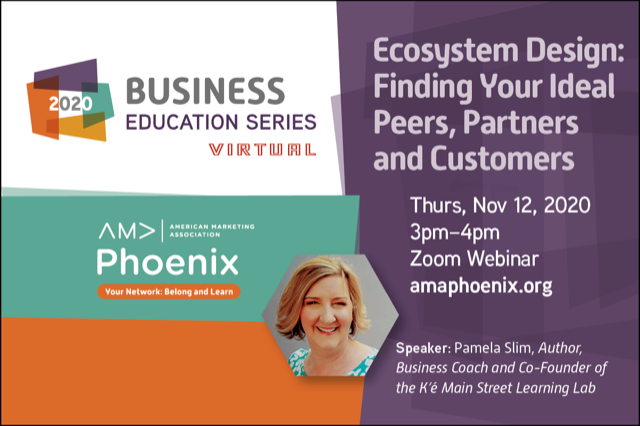 November 12, 2020
3:00 PM to 4:00 PM
We tend to build marketing plans that create activities and campaigns to draw our customers to us. While this is important, we can also look for places where large numbers of our ideal customers already are.
With Ecosystem Design, once you identify the profile of your ideal peer, partner or customer, you can find places, online and in person, where large groups of these people hang out. This makes your connections one to many, which increases your influence, impact and income, while being efficient with your time, energy and resources.
Join AMA Phoenix and Pam Slim as she shares how finding these groups of people — your natural networks — does not have to be hard or happen by accident. Using research from her upcoming book, she will share concrete ways you can identify, connect with, and develop your ideal ecosystem.  When you attend this webinar, you will learn:
How to identify the watering holes frequented by your ideal customer.
How to identify and build partnerships to reach thousands of ideal shared customers.
How to identify key components of an effective Beacon in the Ecosystem Model – what will make your brand point of view sing clearly amidst the noise.
The power of Tiny Marketing Actions in the early stages of relationship building to avoid building transactional marketing cultures.
How to leverage the Ecosystem Model to plan and further your own marketing career.
This event is for corporate marketing professionals, business owners, agency staff, and sales and business development professionals who are interested in learning and understanding this ecosystem model, getting examples to supercharge ideas for audience discovery and expansion, and finding and building relationships to develop business or benefit careers.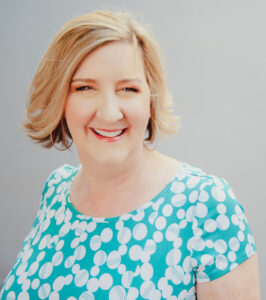 Pamela Slim is an author, community builder, consultant and former corporate director of training and development at Barclays Global Investors. She focused her first decade in business on creating and delivering training programs for large companies such as HP, Charles Schwab, 3Com, Chevron and Cisco Systems.
Since 2005, Pam has advised thousands of entrepreneurs as well as companies serving the small business market such as Infusionsoft, Progressive Insurance, Constant Contact and Prezi. Pam partnered with author Susan Cain to build and launch the Quiet Revolution and the Quiet Leadership Institute.
Pam is best known for her book Escape from Cubicle Nation (named Best Small Business and Entrepreneur book of 2009 from 800 CEO Read) along with her follow up book Body of Work. Both were published by Penguin/Portfolio. Her upcoming book The Widest Net will be published by McGraw Hill in October 2021.
She is frequently quoted as a business expert in press such as The New York Times, The Wall Street Journal, BusinessWeek, Forbes, Entrepreneur, Information Week, Money Magazine and Psychology Today.
Company
In 2016, Pam launched the K'é Main Street Learning Lab in Mesa, Arizona, a grassroots, community-based think tank for small business economic acceleration.
2020-11-12 3:00 PM
2020-11-12 4:00 PM
America/Phoenix
Ecosystem Design: Finding Your Ideal Peers, Partners and Customers
Join AMA Phoenix and Pam Slim as she shares how, with Ecosystem Design, finding your natural networks does not have to be hard or happen by accident.
Virtual
save event to calendar