Digital Marketing: 2021 Strategy & The Customer Journey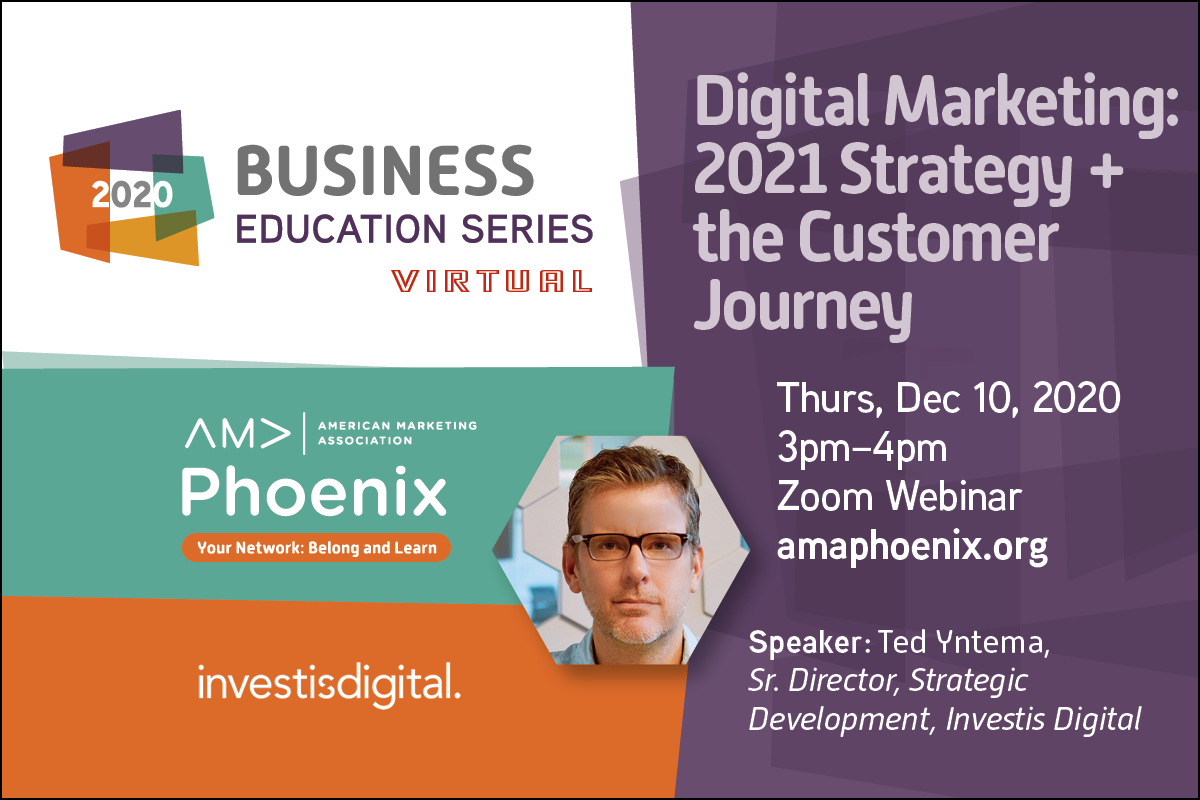 December 10, 2020
3:00 PM to 4:00 PM
Brand planning for 2021 must address the evolution of the customer journey and changing consumer preferences/demands.
Digital Marketing is anything but static and neither are your customers. To align these 2 things properly takes planning and knowing your audience and the content they are searching for. We will discuss how to create the foundation for this alignment – allowing brands to keep their existing customers while capturing new customers by understanding who they are, where they spend time and the types of content they consume.
Join the AMA Phoenix and Ted Yntema as he discusses actionable takeaways that you can bring back to your office as you plan your 2021 Strategy. By attending this webinar, you will learn:
Why the customer journey is so important.
How and why to identify your audience.
How to create content that gets found and your audience likes.
Tools and resources to better understand your customer relative to your business/competitors.
This session will include an interactive workbook to help create digital marketing strategies and align your content with your customer's journey.
This event is for corporate marketing professionals, business owners, and agency staff who are interested in learning and understanding the customer journey and creating content and a digital strategy that appeals to your target audience.

About the Speaker: Ted Yntema – Senior Director of Strategic Development
For the past 15 years, Ted Yntema has been helping the world's biggest brands including Apple, Microsoft, Ford, 3M and GAP, hone their digital marketing initiatives through multichannel performance media strategies and technology consulting. His recent focus has been helping leading retail companies take advantage of new opportunities by strategically aligning their goals with the best mix of digital media.
As the Senior Director of Strategic Development at Investis Digital, Ted helps business leaders evolve their media strategies and solve business challenges. He's held senior roles at a variety of other companies, including digital market research, social SaaS technology and full-funnel digital agencies.
Ted is especially interested in the development of online marketplaces, how they can be managed to further direct sales, and how this impacts their ecommerce space.
"The customer's journey continues to evolve between online marketplaces and direct buys, and how that customer navigates their buying decisions is key to retailers and B2C," Ted says.
Originally from Michigan, Ted's lived from Texas to Thailand. He is an avid dog rescuer/foster dad and an accomplished entrepreneur — he's started a coconut water company and a dog rescue, and he even ran a hotel in Asia. His personal motto: "Always aim high and readjust as necessary."
Company:
Investis Digital has been at the forefront of digital communications for two decades. Over time we've gained deep sector knowledge, invested in leading technologies, and built lasting and trusted relationships with more than 1600 global companies, including Ascential, ASOS, Rolls-Royce, Tarte, Fruit of the Loom and Groupon. Through a proprietary approach we call Connected Content™, we unite compelling communications, intelligent digital experience and performance marketing to help companies build deeper connections with audiences and drive business performance. We tell brand stories through strategic and engaging content that meets your audiences at the right time, in the right place, with the right message.
2020-12-10 3:00 PM
2020-12-10 4:00 PM
America/Phoenix
Digital Marketing: 2021 Strategy & The Customer Journey
Join the AMA Phoenix and Ted Yntema as he discusses actionable takeaways that you can bring back to your office as you plan your 2021 Strategy.
Virtual
save event to calendar
register
* All fields are required