DATOS Overview 2020-2021: The State of Arizona's Hispanic Market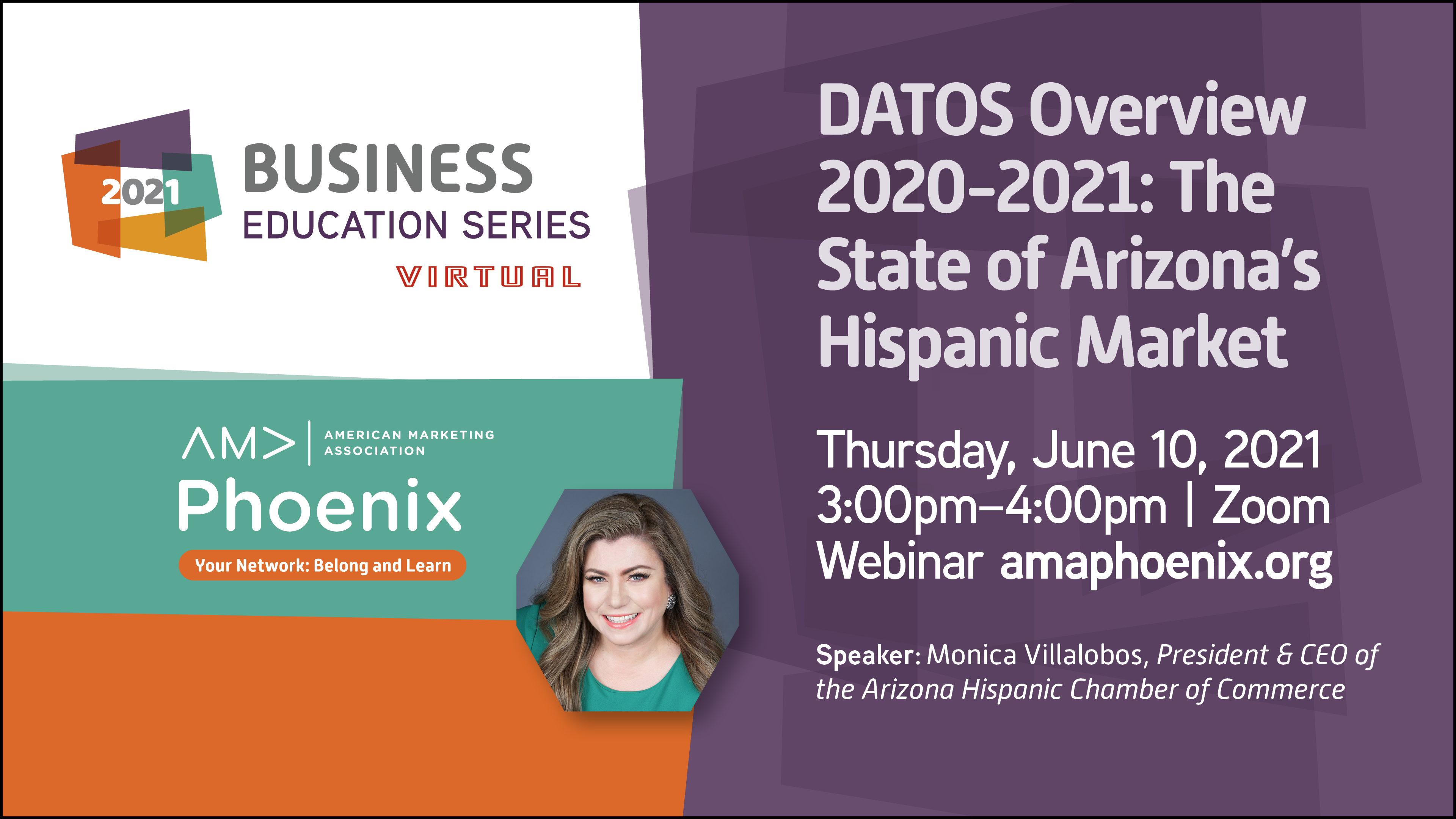 June 10, 2021
3:00 PM to 4:00 PM
The GDP of the U.S. Latino market is growing at an astonishing 8.6%, faster than the GDPs of China and India. The potential of the market provides a critical opportunity for marketers.
Join the AMA Phoenix for a presentation of data on the Arizona Hispanic market and how to capitalize on it in your marketing plans.
The Mini-DATOS presentation shows the overall economic impact of the state's fast-growing Latino population. It features data and analysis on a broad range of issues, including small business ownership, demographics, education, economic impact, and how these topics impact the Latino and non-Latino communities statewide.
In this presentation, Monica Villalobos will provide critical information to help you tap the potential of the Hispanic market:
Economic Opportunity
Business Growth
Population Growth
This presentation is perfect for marketing professionals a corporate or consulting role, business owners, and business professionals who are responsible for developing marketing strategy.  Specifically,  offering a greater understanding of trends among the Latino and non-Latino communities that influence our respective markets and customers.

About the Speaker: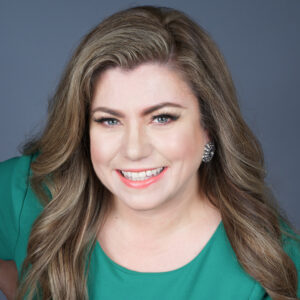 Ms. Villalobos was named President & CEO of the Arizona Hispanic Chamber of Commerce after serving as the Vice-President and Foundation Executive Director for seven years. In this role, she is responsible for the strategic growth initiatives of the chamber.
She is also the operator of the Phoenix Minority Business Development Agency (MBDA) Business Center, Native American Business and Economic Development Center (NABEDC), and Ascend Phoenix funded by JP Morgan Chase Foundation.
Her background and experience as a corporate marketing executive and as an entrepreneur result in a unique combination of skill and talent. For the past eight years, she has been Editor-In-Chief of eighteen research publications including the annual DATOS: State of Arizona's Hispanic Market (2012-2019), DATOS Tucson (2012- 2015), Minority-, Women-, Hispanic-, Family-owned Business Enterprise Reports (2012-2013) and the AZ Supplier Diversity (2012), Employee Resource Group (2013), Sustainability (2014), Global Trade Best Practices (2015), and Minority Business Economic Indicator (2017-18) white paper series.
Ms. Villalobos is the founding principal at ResearchByDesign, a marketing research firm specializing in primary qualitative and quantitative research. She works closely with client partners to develop category specific studies as the foundation for marketing strategy decision-making. She was selected as the 2015 Latina Style Inc. Entrepreneur of the Year and ASU Entrepreneurship & Innovation Visionary Awardee, 2017 Achieving My Purpose: Celebration of Women award recipient, 2018 Cox Communications Hispanic Heritage honoree, 2018 Phoenix Business Journal Outstanding Women in Business recipient, and recognized as one of the 2020 Most Influential Women in Arizona by AZ Business Magazine.
Company:
The Arizona Hispanic Chamber of Commerce (AZHCC) promotes the success of Hispanic-owned and small businesses by facilitating business relationships, economic development and sharing of knowledge for the benefit of the State of Arizona and the growth and success of the members of the Chamber.
2021-6-10 3:00 PM
2021-6-10 4:00 PM
America/Phoenix
DATOS Overview 2020-2021: The State of Arizona's Hispanic Market
Join the AMA Phoenix for a presentation of data on the Arizona Hispanic market and how to capitalize on it in your marketing plans.
Virtual
save event to calendar