The American Marketing Association, Phoenix Chapter Spectrum Awards is Arizona's largest and most representative annual marketing competition, attracting hundreds of entries each year from agencies, companies, organizations and institutions developing and managing local, regional, and national business-to-consumer, business-to-business, association and nonprofit initiatives that span a wide range of industries.
Since 2002, the Spectrum Awards have celebrated the Valley of the Sun's best and brightest marketing, advertising and public relations professionals, showcasing, recognizing and rewarding marketing excellence, achievement and the art and science of marketing. With a multitude of categories highlighting all aspects of marketing, from strategy and planning to innovation, execution and business results, we celebrate our vibrant marketing community and honor the year's biggest ideas and brightest minds in the Metro Phoenix area.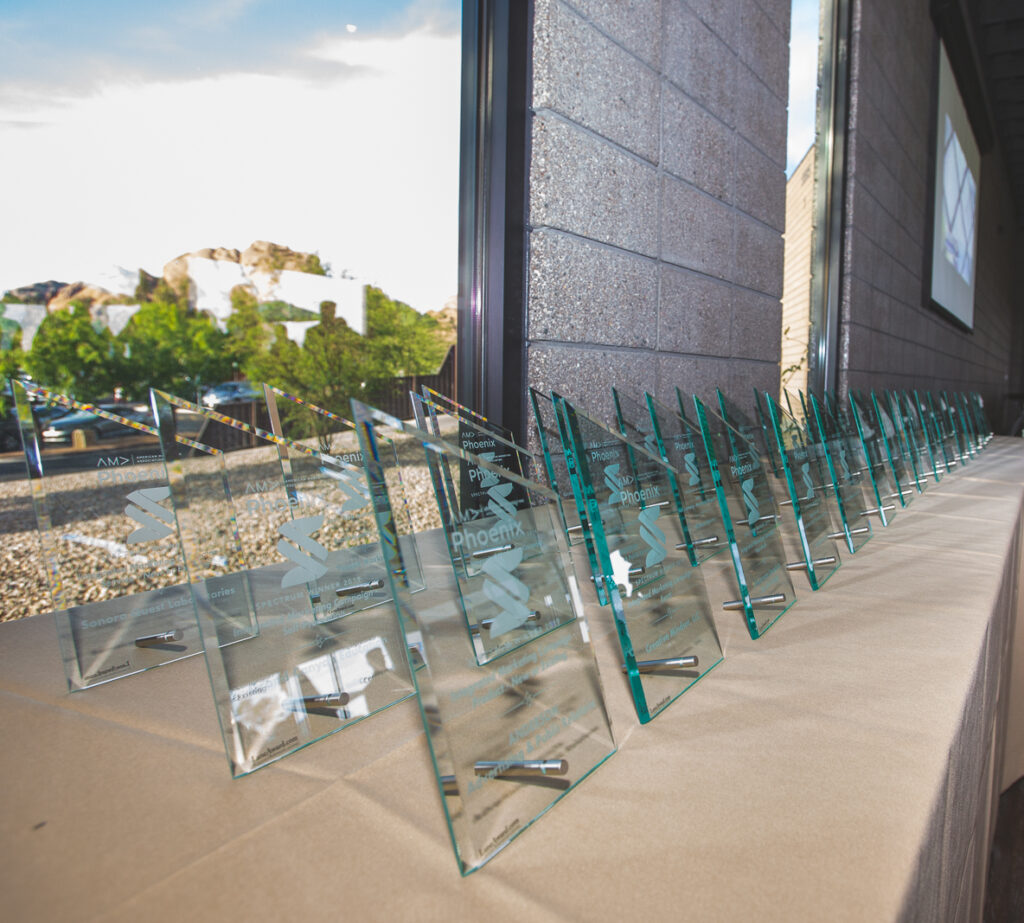 Mark your calendar now and start planning your entries in the largest awards contest of its kind in Arizona and your chance to network and mingle with some of the best and brightest marketers in Phoenix.
Call for Entries: Enter the 2021 Spectrum Awards today!
Year after year, you and your marketing team create brilliant campaigns that achieve meaningful results. Now is your opportunity to get your hard work recognized.
2021 Spectrum Awards Submission Deadline
Deadline is May 24. Enter today!
Call For Entries Has Commenced: April 2-May 24, 2021
2021 Spectrum Award Entry Categories
Integrated Marketing Campaign
1A: Product – New or Existing
1B: Service – New or Existing
1C: Event
1D: Self-Promotion
1E: Multicultural
1F: Non-Profit
Brand Identity
2A: Logo
2B: Product or Service
2C: Packaging
2D: Re-Brand of the Year (before and after)
Print
3A: Advertising – Newspaper, Magazine
Outdoor
4A: Billboard or Transit
4B: Buildings/Wrap/Other
Broadcast
5A: Radio
5B: Television
Collateral
6A: Brochure/Sell Sheet
6B: Special Event Material
6C: Sales Kit / Press Kit
6D: Publication/Annual Report/Catalogue
Promotional
7A: Giveaways
Interactive / Online
8A: Online Marketing Campaign
(Uses two or more forms of digital media)
8B: Website – Corporate or E-Commerce, Microsite
8C: Website – Non-Profit
8D: Mobile – Application
8E: Email
8F: Social Media – Single or Multiple Accounts/Campaign
8G: Search Engine Optimization
8H: Marketing Automation
Direct Response
9A: Direct Mail
9B: Loyalty Campaign
Public Relations
10A: Public Relations – Local
10B: Public Relations – National
10C: Public Relations – Event or Sponsorship
10D: Public Relations – Non-Profit
Video/Event
11A: Sales Video or Educational Video
11B: Fundraising/Non-Profit Video
11C: Animation/3D
11D: Trade Show Booth Design
11E: Event Staging/Decor/Theme
11F: Augmented or Virtual Reality
11G: Online Video
Content
12A: White Papers
12B: Case Studies or Articles
12C: Infographics
12D: Content Marketing Campaign
(Uses two or more forms of digital media)
Marketing
13A: Miscellaneous/Other
Marketer of the Year
14A: Marketer of the Year
For questions, please contact the Spectrum Awards Committee, at amaphx.spectrum@gmail.com.
We look forward to receiving your extraordinary entries!
And we hope you'll join us for a special evening of celebration on July 21st.
Honoring excellence since 2002, the AMA Phoenix Spectrum Awards is the Valley's only award ceremony dedicated to recognizing both the art and science of marketing.