Super Bowl Ads Recap and Review: The Best, The Worst, and What We Can Learn for 2023
February 16, 2023
3:00 PM to 4:00 PM
Who was outstanding in the field of Super Bowl ads? The experts at Ideas Collide recap and review of the best and worst ads.
This is one presentation you won't want to take a pass on! Matt Clyde and Joel Eberhardt from Ideas Collide will review the best and the worst of the Super Bowl ads. Learn their perspective on what makes an ad memorable, why invest in Super Bowl advertising in the first place, and what the ads can tell us about what's ahead in 2023.
These Valley ad pros will share their perspectives on:
The basics of good (and bad) advertising
The strategy behind big spending in advertising
Why the Super Bowl is the premier advertising opportunity
How companies can maximize the Super Bowl opportunity well beyond the game
If you're in marketing, branding, sales, or the agency biz — or own your business — this is a great way to learn how to maximize ROI for future marketing and branding opportunities.

About the Speaker: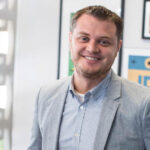 Matthew Clyde (@matthewclyde) began his creative career at the age of 19 when he received the Sundance Institute Young Writer's Award. The experience set him on an exciting creative career, which has taken him on assignments from Hong Kong to Costa Rica, Europe to Hawaii. In every endeavor, Matthew looks at any challenge being full of great opportunities and is always ready with new insights and inspirations—driving him as a business leader, mentor and entrepreneur.
Over his diverse career Matthew has worked in Fortune 500 organizations, small start-ups and New York agencies. He worked for Franklin Covey in their Marketing Innovation group taking the 7-Habits of Highly-Successful People and First Things First training to organizations like Starbucks, Ritz-Carlton and PetCo. His entrepreneurial ambition led him to create many of the first online training programs and launch some of the first websites in the travel industry.
In 2005, Matthew launched his own firm, Ideas Collide, with offices in Phoenix and Portland. Ideas Collide serves clients worldwide including international brands in hospitality, technology, consumer goods, health care and education. Matthew's passion for life is demonstrated in his extensive travels, dedicated community involvement, and generous care to his family and friends. Matthew currently serves on the executive committee for the Greater Phoenix Chamber and on the Hospitality Sales & Marketing Association International (HSMAI) Foundation Board.
Company:
Ideas Collide (est. 2005) is a strategic marketing communications firm that develops custom marketing solutions that drive action and results. Focused on delivering innovation with business and data intelligence has established Ideas Collide as a highly-sought out and unique strategic marketing partner. Bring your business challenge to the table and the IC team will invent and integrate marketing solutions to meet the challenge with impact. The team is comprised of a strong, diverse group of marketing and design professionals that operate with business acumen, an absence of ego and a collaborative, growth mindset.
Discover more about the IC marketing portfolio, culture and team at: ideascollide.com

2023-2-16 3:00 PM
2023-2-16 4:00 PM
America/Phoenix
Super Bowl Ads Recap and Review: The Best, The Worst, and What We Can Learn for 2023
Who was outstanding in the field of Super Bowl ads? The experts at Ideas Collide recap and review of the best and worst ads. This is one presentation you won't want to take a pass on! Matt Clyde and Joel Eberhardt from Ideas Collide will review the best and the worst of the Super Bowl
Zoom Webinar
save event to calendar
register
* All fields are required