Digital Summit Phoenix 2023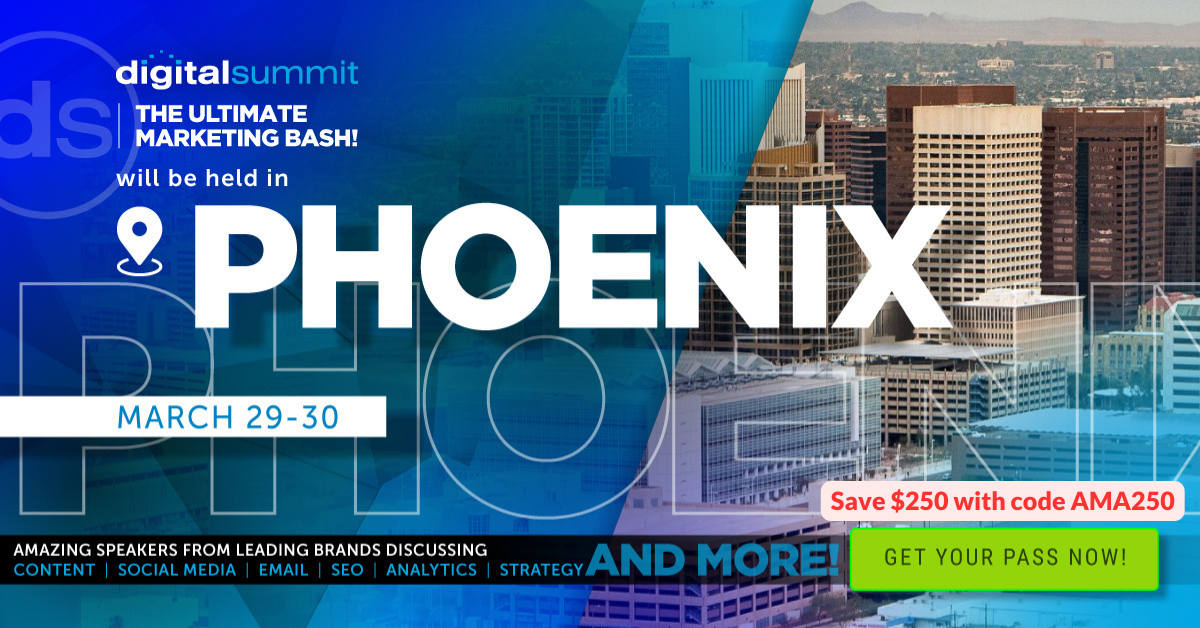 March 29 – 30, 2023
9:00 AM to 6:15 PM
Phoenix Convention Center 100 N 3rd St • Phoenix, AZ 85004 North Ballroom | North Building – 100 Level
(602) 262-6225
Digital Summit Phoenix is BACK! Our friends at Digital Summit are BACK with a new edition of Digital Summit Phoenix – with a lineup and program that will help you take your strategies up a notch (or three).
Join Digital Summit Phoenix and 500+ of your marketing peers March 29-30, 2023 for the latest digital marketing trends and tactics, presented by leading experts and brands.
Use code AMA250 and receive $250 off your registration price! Take advantage of this special offer and do not miss this event.
You will not want to miss this year's event:
Get ahead of the game with Brian Solis' predictions of 2023 marketing.
Learn the latest marketing strategies in 30+ in-depth digital marketing sessions – taught by Good American, HBO/Warner Bros., Amazon, Phoenix Suns, and many more.
Masterclasses – each a highly interactive deep dive into select marketing topics – will be woven into the 2-day schedule.
Up to date, trend-forward sessions in Content Marketing, Social, Storytelling, Video, Email, CX, Gen Z, Data & Analytics, SEO, and much more.
A lively sponsor gallery that gives you F2F time with today's leading Martech product and service providers.
500+ seasoned digital marketers like you in one location. Endless opportunities to create new peer and client connections!
Access to all of the Digital Summit Phoenix session recordings and slide decks, post-event, for continued learning.
See the full program and speaker list at digitalsummit.com/conferences/phoenix-2023.
Awesome group pricing and packages are also available.

2023-3-29 9:00 AM
2023-3-30 6:15 PM
America/Phoenix
Digital Summit Phoenix 2023
Digital Summit Phoenix is BACK! Our friends at Digital Summit are BACK with a new edition of Digital Summit Phoenix – with a lineup and program that will help you take your strategies up a notch (or three). Join Digital Summit Phoenix and 500+ of your marketing peers March 29-30, 2023 for the latest digital
Phoenix Convention Center 100 N 3rd St • Phoenix, AZ 85004 North Ballroom | North Building – 100 Level
save event to calendar