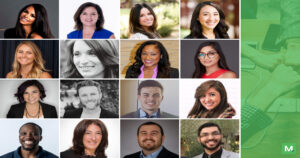 Job hunting is a time-consuming task that oftentimes has a low rate of success. You're competing with a sea of individuals that have similar skill sets and aspirations. So how do you stand out to employers?
16 Business professionals spill their number one tip on how to market yourself to employers.
Dress Professionally, Act Confident 
How you dress and present yourself to future employers speaks volumes about the kind of employee you will be. When attending interviews, networking events, or anywhere else you might meet a local employer, dress in professional business attire, stand tall when you walk and smile at those you encounter all while being confident and poised. You never know where you will meet your next employer. So, when actively job searching, dress professionally, and act confident whenever you can. 
Vanessa Molica, The Lash Professional
Attend Local Events 
Being at the right place at the right time is half the battle when it comes to networking and marketing yourself to potential employers. If you are serious about a specific industry or even a specific company, do your research and determine what events those companies are attending and attend them yourself. Yes, the event might intimidate you and start off with awkward small talk, but being in an environment surrounded by local employers will set you on the path to meeting the person that just might catapult you into your future career. 
Denise Gredler, Best Companies Arizona
Find an Employer With a Purpose
Find a company or organization doing something you genuinely care about with every ounce of your existence. One-third of your life is spent at work. If you love dogs, maybe a dog-friendly position at one of these AZ companies is where your career can ignite. Consider volunteering where you will connect with like-passioned people potentially leading you to a new future. 
Be Prepared to Explain
Decidedly know and represent your own values and show how they align with the values of the company or for a specific role. For your top few values, be prepared to speak on experiences/actions/outcomes related to each. This can help in preparation for interviewing to organize your most significant points as well as give you confidence in sharing your most authentic self.
Tia Parker, Engagement and Professional Development
Think About the Job You Want
Create your brand with that in mind. Even if you don't currently have the job you want, there are always tasks or experiences you can speak to that relate to the job you want. So when writing your resume or LinkedIn profile, write for the audience you want to attract. And if you fall short somewhere, figure out how to get experience through the people in your network. I've found, especially now, most people love to teach and mentor – all you have to do is ask.
Meagan DeMenna, Head of Marketing and Communications
Be Present on LinkedIn
Be present on Linkedin and make sure your profile accurately depicts your previous work and the work that you want to do. If you aren't strong in a particular area, what are you doing to improve those skills? There are free courses available through companies like Coursera and there are volunteer positions available locally and globally. If your portfolio doesn't look the way you want it to, do something about it. Beyond that, stay present on Linkedin. Connect, engage, comment, and attend virtual events where you can. There is an algorithm to getting noticed and it works best for those who show authenticity.
Sydney Stern Miller, Growth Marketing Lead
Have a Professional Image
Consider your profile picture when marketing yourself to employers because it's a form of personal branding and an immediate introduction of yourself. Make sure the picture you use is a good quality photo and as a representation of who you are as a professional. Your profile picture should be a high-quality headshot, and it doesn't necessarily need to be business formal. Think of the industry you work in or want to work in, to help you choose the best photo. Stay away from selfies, pictures that are inappropriate, too casual, or that may be low quality.
Lizeth Santamaria, Discover Your Power
Network Face-to-Face
Whether you work for a tech company or a digital marketing agency, you should be attending networking events and winning people over in real life. Although LinkedIn and other digital platforms are great ways to market yourself, nothing really beats wowing someone face to face.  Before attending an event, do some research as to who will be in attendance. Knowing who you want to connect with and having great questions to ask them right off the bat will really set you apart from the pack. After the event, send them a follow-up email that is personalized and plant the seed for a future conversation.
Focus on Keywords
Once you decide the role you would like to target, make sure you are using role-specific keywords in your job site profiles and resume. This shows your future employer that you speak the same language and creates a sense of familiarity and trust early on.
Michelle Diaz, Teammate Experience Manager
Connect Your Values
Highlight the connection between your personal core values and the potential employer's core values. You can likely learn the role's technical skills quickly, but showing how you have an underlying emotional connection encourages recruiters to believe you're likely to stay longer, connect with colleagues more deeply, and be more productive. In a sea of candidates, you stand out because you're showing how you'll immediately fit into and add value to their culture.
Michael S. Seaver, Executive Coach
Be Adaptable
My number one tip is to present yourself as adaptable to the potential employer. This allows them to see that you are open to change and ready for anything coming your way. My past managers have seen this as a positive and were always comfortable giving me more tasks to complete. In a post-COVID world, change is inevitable for most industries and the ability to adapt to any situation will pay dividends in the long run.
Matthew Senger, Finance & Strategy Analyst
Understand What They're Looking For
My number one tip on marketing yourself to employers is to understand what they're looking for and position your skills/expertise to solve their pain point. Marketing is about being relevant and timely. And, people are more concerned with what's in it for them. If you can solve what's in it for them well and succinctly, you'll have a higher chance of at least getting a second interview. This can be also applied to resumes, not just phone or in-person interviews. Customize your resume with relevant information the employer is requesting.
Janelle Amos, Revenue Marketing Manager
Be Yourself

The biggest thing is to be yourself. I think once you understand who you are and your strengths and weaknesses, you can begin to market yourself to potential employers on a deeper level. You can do it through your strengths and authentically. For example, if you decide that you want to create a vlog to grow your personal brand but have no desire to be in front of a camera, you can select an alternative that would accomplish the same result but be in alignment with your strengths. It's not just for the job but also when you get the position you want to make sure you are highlighting what you will be able to accomplish.
Gresham Harkless, Blue 16 Media
Use Numbers
Make it about them, not about you. Show how your past accomplishments brought value to employers, and how those skills can transfer into a new opportunity. How did you cut costs, increase revenue, improve compliance, improve efficiency, or improve policies or procedures?
Deborah Bubis, Recruiter/Sourcer
Make Your CV Stand Out
Competition for jobs is at an all-time high which means recruiters have to sift through more resumes than ever and you have to distinguish yourself from the competition. Whether that's writing a riveting cover letter, contacting the recruiter or hiring manager directly via LinkedIn, or creating a digital portfolio — you have to do something to stand out. The key is to research the company, identify their top 1-3 obstacles, and devise a plan to tackle those challenges with you as the primary solution. Whatever you do, make sure it represents your strengths well and always think in terms of your audience.
Jonathan Pipek, Product Marketing Manager
Beat the Applicant Tracking System
Simple: beat the ATS (applicant tracking system). An ATS is a great tool for employers but your application and resume can get lost in the pileup. Be sure to do your research on the company and connect with individuals in the company. Get your name circling until it lands in front of the right person.
Andrew Aziz, HRBP